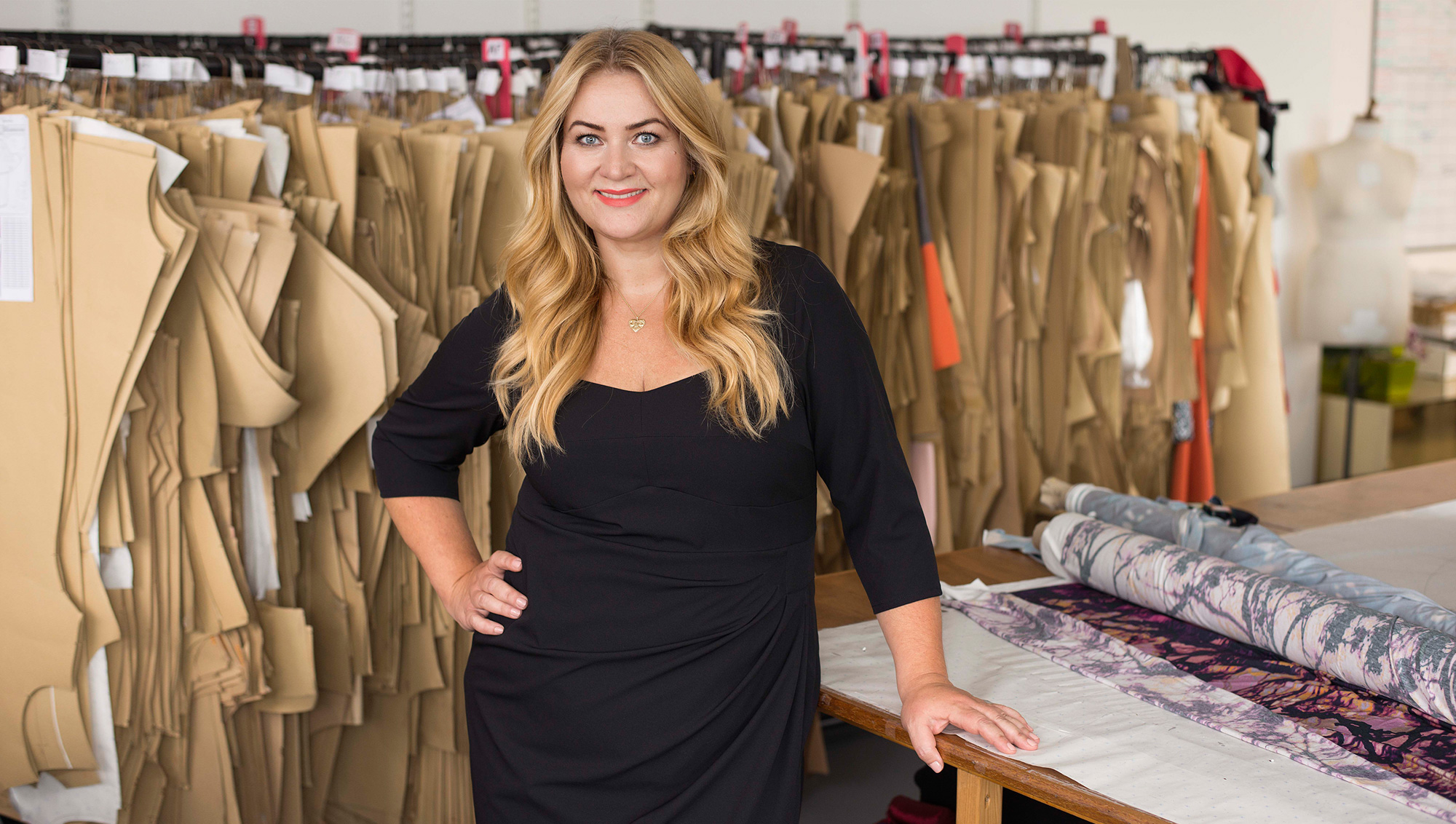 Growing up in Germany, my parents were always the epitome of style. My dad was a true innovator and he founded the very successful advertising agencies Team BBDO and later, Scholz & Friends.
My glamorous mum owned an American Folk Art gallery. I was surrounded by fantastic design whether it was my dad's impeccable taste around our home or my mum's to-die-for wardrobe.
My three older siblings and I all ended up working in creative professions.
At the age of 13 I was 6 feet tall and size 16, and as you can imagine it wasn't easy to find clothes that weren't meant for an unstylish woman much older than me, especially so in the 1980's. I made a decision there and then that I would make clothes that would make me feel and look great and started sewing ; from an early age I was determined to change the plus-size industry!
During my late teens I started working as a plus size model and continued to experience a complete lack of fashion forward sexy plus size clothing. I saw a huge opportunity in the market and decided to study fashion design at the world renowned Central Saint Martin's College of Art and Design in London. Whilst studying I opened a small shop in Portobello market with a couple of my friends and started selling my own designs.
My big break came when American retail giant, Lane Bryant ordered from my first collection and went on to sell it in their top ten stores as a premium brand. The collaboration with Lane Bryant provided me with enough capital to move the design studio out of my living room and intomy first office in Ladbroke Grove and the annascholz label was born.
I've always believed you shouldn't hide behind clothes; you should feel proud of your body and accentuate your curves rather than cover them up. My designs are about femininity, glamour and confidence, I love luxurious fabrics and colour and have an affinity for retro prints and intricate embellishments. I believe in offering the luxury and originality of a designer brand to the plus size customer.
Being a plus size woman myself and having worked in the industry for over 20 years. I understand women's bodies and I truly believe that style and happiness are not related to size.
I think it is amazing how the plus-size fashion industry has evolved in recent years and there are fantastic role models such as Ashley Graham changing the way curvier women see themselves.
I've been privileged enough to dress some amazing women from Adele and Ashley Graham to Aretha Franklin and Dawn French.
Over the years I have designed diffusion collections for Debenhams, Simply Be and currently I work with the German company 'Sheego'. I have been stocked in some of the best stores around the world from Bloomingdales, Saks and Neiman Marcus to Harrods and Selfridges.
In 2016 after listening to our customers we made the decision to change our business and sell the annascholz collection exclusively on www.annascholz.com so that we can offer better priced designs, more frequently with 8 mini collections a year.
We always love hearing from our gorgeous customers – whether it's because you want us to bring back a particular style or you want style advice, just drop us an email at [email protected] and we'd be happy to help in any way we can!
For more information on my journey and the company please click here
If you want to follow me on social media
annascholz label sold worldwide in stores including Bloomingdales, Saks, Neiman Marcus Harrods, Selfridges and Isetan

Annascholz diffusion collections at Designers at Debenhams, Simply Be and Sheego

Celebrities wearing annascholz including Adele, Ashley Graham, Aretha Franklin, Dawn French, Queen Latifah, Lisa Riley and Brooke Hogan

Anna's TV appearances include Mary Queen of Shops with Mary Portas , NDR Talkshow, Trinny & Susannah and The Fashion Hero

Anna Scholz wins Best Plus Size Designer at British Plus Size Awards 2015

The annascholz collection now sells exclusively online at www.annascholz.com
PS Watch the new TV Show, Fashion Hero now on Amazon with Anna as one of the designer judges. Click Here