Anna Loves
The whole Anna Scholz team went out last night to see Sex and the City 2! We had gone to the first film as a team, so we figured we had to do it again.
Mixed reviews from us on the film, but we all enjoyed the fashion.
"I don't let myself get bored with clothes," says Patricia Field, the master stylist behind the magnificent fashions on both the Sex and the City TV series and films. "As long as I discover new visions, whether it's movies or TV or just creating, I don't get bored."
Field recently discussed her inspirations behind the clothing in the new sequel with Hilary Moss of The Huffington Post. In the article, she walks us through the styles in a number of scenes.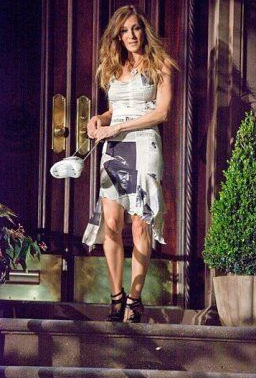 "Carrie's in her old apartment, she's got her closet and her clothes are still in it," Field tells Moss. "She went in her closet to put something on to go to dinner with Mr. Big and she pulled out her old Dior newspaper dress. It was just a memory moment for my fans. I chose this dress because she looked fabulous in it from the beginning and still does. It was a very famous dress that she wore in the series. Back then it was very up-to-the-minute but it has endured for years."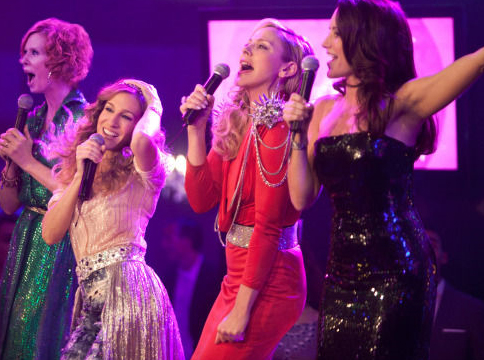 "This scene is the karaoke club and I wanted to make them like The Supremes," explains Field. "Colorful, shiny, disco-y. Charlotte is wearing vintage YSL, Samantha is wearing The Blonds, Carrie is wearing Chanel and The Blonds, and Miranda, Halston Vintage."
"This is built on an experience of mine …[when] was I was in Cairo and I went on a camel riding around the pyramids," Field relates. "…When I did the camel ride, I wore the hat Samantha wears but in a burgundy. A friend of mine, Horst, made it. I had an outfit on for the camel ride. I didn't go in just a t-shirt and jeans. I was, like, 'I'm in the desert, going to Lebanon and it's the year 1000 and I'm on a camel.' I made up this scenario, so when I went on my camel ride I was feeling the theatrics of it. And then it revisited me ten years later in Sex and the City."

To read more fun insights into Field's inspiration, http://www.huffingtonpost.com/2010/05/27/patricia-field-walks-us-t_n_591320.html#s93914