Read All
As you all know, we've been introducing Anna's Autumn-Winter 2010 collection to the website over the past few weeks. Anna always gets numerous complements on the way that the models on the website are styled. So we thought we'd give you a little behind-the-scenes peek at the hair and make-up artistry that goes into the photo shoot.  We've worked with the lovely and talented Julia Krajnakova for the past several shoots and she was kind enough to share her secrets with us.  I do love it when she gets technical!
To create an overall natural look, some of my favourite cosmetic brands are Laura Mercier, By Terry, Chantecaiile, Shu Uemera, Christian Dior and Estee Lauder.
I always start by cleansing and moisturising as a skin prep is important for a natural skin glow. To refresh and clean the skin, I used A Rose Delight, the rose gel cleanser from By Terry. On both Gina and Natalie, I used a light moisturiser from Chantecaille called Flower Harmonizing Cream, suitable for any skin type. I followed it with a primer with sunscreen in colour Beige by Shu Uemura.
On Gina: I started with the water-based foundation no. 763 by Shu Uemera and Estee Lauder's no. 2 concealer.  I dusted her face with loose-set powders: Poudre Eclat mineral powder with fine pigments and no. 2 skin enhancer, Glowing Rose, both from By Terry. I achieved a slightly bronzed, healthy glow with Laguna bronzer by Nars.  For her cheek colour, I chose a peachy-pink blush from Shu Uemera's limited edition palette.
For the eye shadow, I went for the Cocoa Rose matte eye colour duo from Laura Mercier; it includes the pale pink colour I used on the eyelids and the deep brown colour blended in the eye creases. To define Gina's eyes I used Night-Blue gel eyeliner by Shu Uemera and just dotted it along the bottom lashes to create thicker lash line. Her eyebrows I enhanced with the light brown colour from Sebastian's eyebrow palette.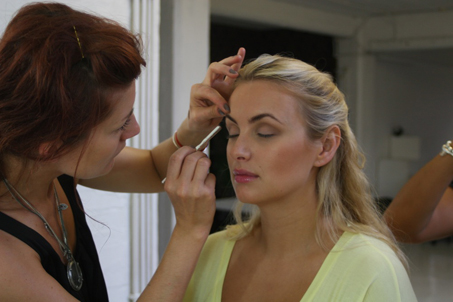 Only a couple of coats of Long Lash Mascara by Laura Mercier for bringing out the eyelashes. Then I finished off her skin with the fabulous non-sticky Baume De Rose with spf 15 for extra moisture and a sheen of light-reflecting prisms.
Finally, to add definition to Gina's lips, I used Nuance lip liner by Chantecaille. To add an extra pink colour to the lips I dabbed with my fingers a bit of Laura Mercier's Camellia shade of lipstick.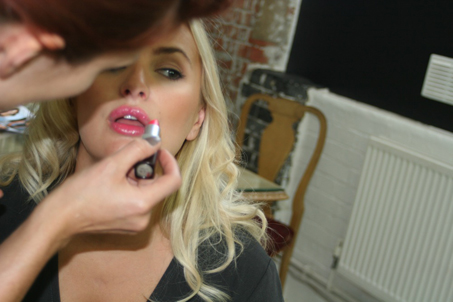 On Natalie: I used Laura Mercier's oil-free moisturising foundation in Toffee Bronze and mixed it with Estee Lauder's Medium-Deep concealer to get an even skin tone. I then dusted her face with a loose powder in Radiant Beige from By Terry and bronzed all over with YSL no. 4 Iridescent Sun bronzer. To add a bit of pink to Natalie's cheeks, I applied By Terry's Blush-Expert in colour Sexy Rose no.1.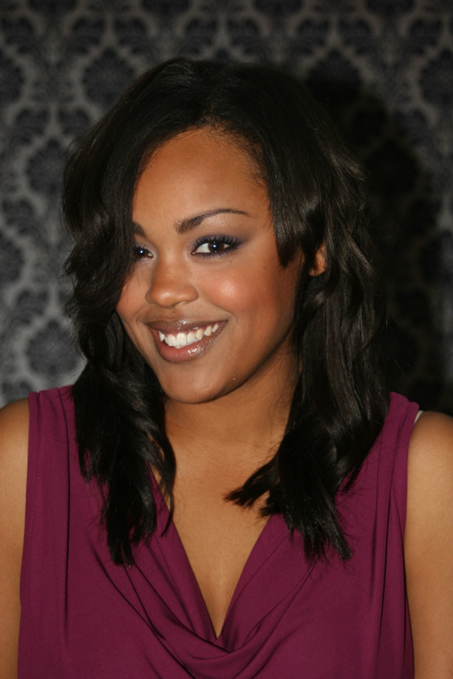 On Natalie's eyes I used mixture of lilac and purple colours. I love the Party Monster lilac eye shadow by Nars. I applied a creamy eyeshadow by Mousson on the inner corners of the eye to give an instant brightening effect. On the outer corners, I blended the deeper purple colour Tanzanite by Chantecaille. Black gel eyeliner by Shu Uemera added extra definition to the eyes and Christian Dior's Black Out waterproof mascara thickened the lashes. I defined her lips with Impression lip liner by Chantecaille and then applied the pale nude lip colour Promiscuous by Nars.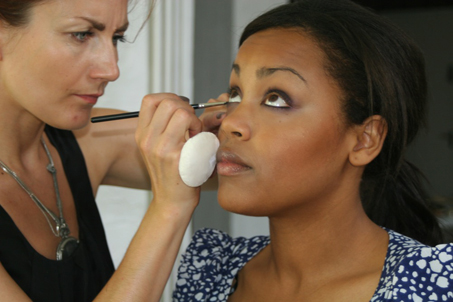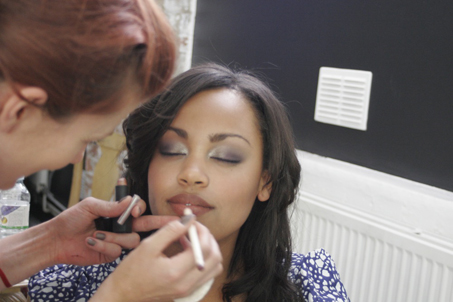 Throughout the day, I added By Terry's Lacque de Rose no. 6. purple sheer lip-balm for touch-ups. This colour soon became the signature statement colour of the shoot. By the end of the day, everyone tried some on and we took a photo of the whole team!
All products can be purchased in Selfridges, Liberty and Harrods with By Terry cosmetics available exclusively at Space NK.
Read more about Julia's craft as a make-up artist on the Julia K Blog