Anna Loves
Our friend Alice Dogruyol, who writes for the Plus Size Tall blog, is planning an autumn trip to NYC for a long weekend of "fashion, food and flirting" and to fulfill her Sex and the City fantasies.
We were very pleased to learn that she includes a number of Anna's pieces among her suitcase essentials. Anna's "super stylish sexy Autumn-Winter 2010 collection is full of jaw droppingly stunning NYC worthy pieces," Alice says.
Alice plans to see the sights wearing Anna's cotton cashmere colourblock wrap dress which she praises for giving you "a subtle cleavage, nipped in waist and just about enough length to cover knee squidge. The three-quarter length sleeves are the perfect length and the blocks of colour in the fabric create a sort of optical slimming illusion. The moment I put it on, I fell in love. I'm hoping it will have the same effect on all the Aidens, Joeys and Mr. Bigs that I am determined to meet whilst sipping a Cosmo in The King Cole Bar."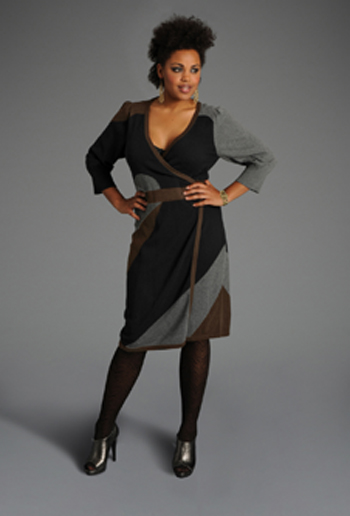 She'll also cut a stylish picture on the streets of Manhattan in Anna's cotton cashmere bow tunic with its "flattering shape and pretty detailing," and the crepe jersey sequin sleeve tunic as "an elegant and sleek party piece."
If things get chilly, Alice plans to slip into Anna's wool military coat.  "It is the first military style coat that I have found that isn't double breasted but gives the illusion it is," she describes. "The last thing big boobs need is extra fabric flapping around the chest area if you don't want to do your coat up."
Alice has been a fan of Anna's for a while now and we always appreciate her kind words. "I discovered Anna Scholz when a stylist at Good Housekeeping forced me into one of her wrap dresses for a photo shoot," writes Alice. "I was adamant it wasn't going to suit me, I hadn't worn a dress since I was 14 but much to my surprise it felt and looked great and in that moment I became a proud dress wearer again."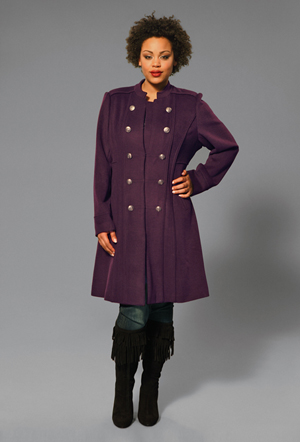 Well, you always wear it well, Alice. Say hello to Mr. Big for us!
To read more about what Alice is packing for her NYC trip, read the full article at Plus Size Tall.