Fashion
We always love to see how our customers style Anna's pieces with their own personal flair. Recently, Michelle W., the creator of the Something to Wear blog wrote about how she decided to copy the look of our lovely website model, Gina, to much success.
The Something to Wear blog is a lot of fun. Great care is taken with the lengthy pieces about all kinds of topics. It's relatable and humorous and informative. (I loved Michelle's title "Best Actress in a Supporting Role…" for a piece about finding the right bra.)
Here's what Michelle had to say about dolling up Anna's brown cotton cashmere bow tunic: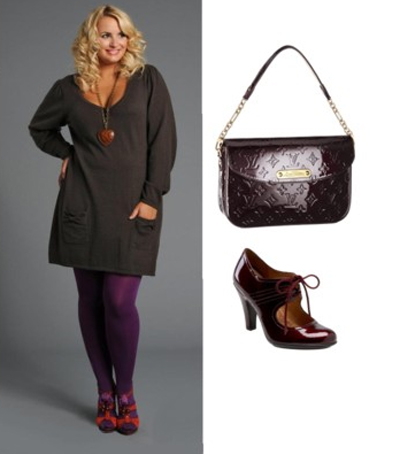 "In the interest of trying something new, I started the New Year at the office with a chic departure and ended up trying several new things all in one go!
I recently purchased Anna Scholz's fabulous Cotton Cashmere Bow Tunic in a rich brown, and loved her look on the website (see above!) so much I went on to essentially copy the outfit.  I had intended to wear the tunic with leggings or slim pants but once it arrived and I tried it on, it became clear it would look best as a dress.  Now, this is hard to admit, Fashionista that I am, but I do not wear many skirts or dresses.  I am simply not enamored of my milky pale legs and I don't love the look of most hose.  But Anna's colorful tight idea was something I was willing to try.
So I got myself over to welovecolors.com for some amazing opaque tights.  … I love the pop of some color with more classic neutrals….
I trolled my closet to complete the look.  Taking a few tiny steps away from the bold orange/Chinese red accessories in the photo, I went with my own palette of plummy reds and purples, starting with a terrific pair of soft cherry red metallic patent Mary Janes.  These work really well with my beloved Louis Vuitton Monogram Vernis Bag in Amarante – a deep burgundy that looks nearly brown until you get in the light, where it becomes this stunning purple iridescent color.  To keep the cleavage toned down, I added a cami in a plum color and  topped it off with a long mixed media necklace that worked the plum colors and added just a pop of green for contrast.
Being quite a bit shorter than the model, the dress on me was at an office and age appropriate knee length.  My sweetheart totally loved the leggy look.  And the outfit garnered several complements.  So all in all the new things were a success and I will be adding this look to my repertoire.
Now it's your turn to try something new.  Copy a bold look you admire.  Try wearing something you usually wouldn't wear.  Or just say good-bye to boring old black, navy, brown or beige hosiery and say hello to a little, or even a lot, of color.  C'mon, I dare you!"
We're thrilled to hear that our web shop styling was inspirational. We have a lot of fun creating outfits and looks during our photo shoots and always hope that customers like what we come up with.
Definitely check out Something to Wear for more inspiration too!