Fashion
Aimee Cheshire is the owner and driving force behind Madison Plus, the blog and web shop for the fashionable plus-size woman. Madison Plus is an interactive and personalized shopping experience and guide. It offers shopping, style tips, trends and street style, info on plus models, the latest news in the plus-size fashion industry and celebrity news. Madison Plus has been a great source of information and inspiration for the Anna Scholz blog. We have done a little guest blogging for each other as well.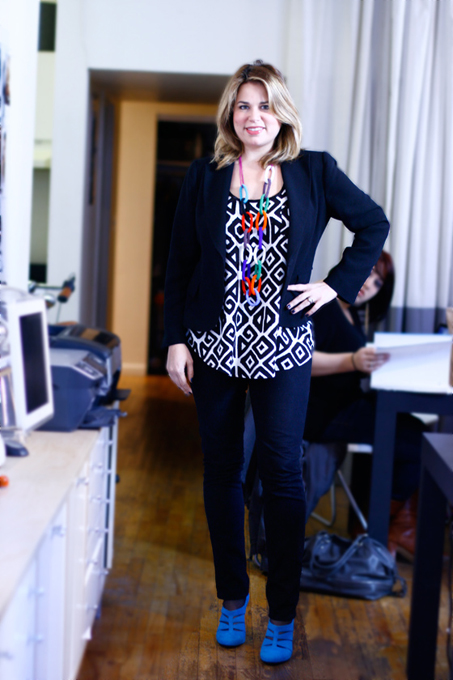 What is your favourite part of your body?
My lips and legs.
Where will you be in 5 years?
Running Madison Plus and maybe in the world of mommy-hood.
Who would be your dream date?
Eugene Hutz of Gogol Bordello. I have a crush.
What superpower would you like to possess?
Invisibility would be handy because I am nosey.
What is your favourite movie?
Amelie, and the original Hairspray. Tracy Turnblad showed me my shape shouldn't matter.
What is your favourite restaurant?
No clue where to start but if I could do any meal again it would be the tasting menu I experienced at La Truffiere in Paris. It was full of all the decadent things I love in life: red wine, fois gras, bone marrow, and cheese. I live in Brooklyn so I am very lucky to have a good collection of restaurants at my fingertips like Rye, Fette Sau and Traif.
What has been your greatest achievement?
Being able to watch my dreams unfold with Madison Plus.
What has been your happiest moment?
Meeting my hubby– I knew immediately my world of dating was over.
What is your greatest fear?
Losing my support system of family and friends.
Which living person do you most admire and why?
Natalie Manhasset. I love that she has been able master the work/family balance while creating Net-A-Porter. I am all about working, but without a proper balance you end up losing your passion, drive and vision.
What trait do you most dislike about yourself?
I have the memory of a goldfish. I would like it to be more like an elephant.
What makes you sad?
When polar bears die.
How do you relax?
For immediate relaxing I love yoga, a book and a bottle of wine.
Who is your favourite designer?
L'Wren Scott. She doesn't follow the trends and has an elegance that she adds to the pieces she makes. Now we just need to get her to do plus.
Heels or flats?
Flats, with a heel or two here and there. I am a casual girl at heart, but I know how to do it up when needed.
Black or white?
Black– I'm a New Yorker
Where would you like to be right now?
Mountain Lake, my family's cottage, where I can totally disconnect from the world by rowing a boat, swimming, playing cards, reading and staring at the stars. It's a good place to be.
What is the most important lesson life has taught you?
To persevere. When things are difficult and anything but fun, I keep the mindset that this is happening for a reason and all will be fine once it's over. The greater plan always reveals itself.
How would you like to be remembered?
I hope that my work in the plus industry will make a difference and, of course, being the best wife ever.
What is your favourite song?
Such a tough question. I have so many favourites it depends on my mood, time of day….Here are a few from my top played on my iPod: The Constellations – "Setback", Gogol Bordello – "Pala Tute", Edward Sharpe & The Magnetic Zeros – "40 Day Dream".
What has been your biggest disappointment?
I've had quite a few; don't be disappointed if I don't mention them.
Have you ever said 'I love you' and not meant it?
I am sure it's slipped out a few times; sometimes you just can't stop yourself from saying it.
What is your guiltiest pleasure?
Can I have more then one? If so, then I have at least a handful. Here is a selection pack: fois gras; a bottle of Chateau Rayas; an email-free day; bacon.
What is the worst thing anyone ever said to you?
There is a famous Hollywood actress I crossed paths with many moons ago who I overheard speak very badly about my shape. While it was far from the worst thing, it always stuck with me and then she became famous, and now I get to remember it every time I see her.
That being said, I am sure she is just lovely now. You're not always at your best when you're young.
What do you appreciate most in your friends?
Loyalty, humour.
What is your idea of happiness?
So many equations in life that will equal happiness. I know I experience happiness in its purest form when I am at home with my husband, friends and family.
If not yourself who would you like to be?
Renzo my cat; he leads a very relaxing and cozy life.