Anna Loves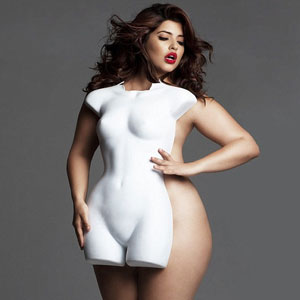 If you haven't heard of Denise Bidot yet, you sure will see a lot more of her in the near future.  She's currently breaking new  ground for Plus size models across the globe, becoming the first plus size model to grace the catwalk at New York Fashion week and is known for her work with straight and plus-size brands such as Forever 21, Target, Zizi, Levi's, Nordstrom, Macy's, Old Navy and Lane Bryant.
Denise sat down with Cosmo mag and Sophie Simmons, the 22-year-old designer behind Sophie x TheStyleClub (More info here), to talk about body image, confidence and the plus size fashion industry.
You can view the video below where Bidot discusses how plus-size models have to fit ideal body types, and how her mother, and being a mother herself has had an impact on her views regarding her own body image.
During her interview Bidot gave her strong views of the term 'plus size':
"I think other people have a problem with [the term 'plus-size'] more than I do. I don't care what you call me. I'm glad to even have a place in this fashion industry. Plus-size, straight-size, in-betweenie — I don't care regardless. I'm just a woman. I'm a curvy woman, and hopefully some day they do end up cutting out the word plus-size. But, for right now it's nice to just have a section for us."
We couldn't agree more with Denise's opinion regarding the term 'plus size' and encouraging a healthy idea of body confidence in all women, no matter their shape or size. We admire Denise's own confidence and the amazing influence she has on the plus size industry right now.