Anna Loves
Portugal isn't my favourite European destination but somehow I ended up going there 3 times in the last year and while It's not as pretty as Italy, the beaches are not as idyllic as on the Greek islands and the food not as exquisite as in France, it has its own wonderful charm.
Portugal is rougher around the edges, whilst the Algarve in the South is more touristy and has calmer beaches, I am a fan of the roar of the wild Atlantic, where waves are constantly crashing against the shore and the water is freezing cold.
I went to Sagres last year which is on the southern most corner of Portugal and a haven for surfers with endless beaches, Porto in spring which was incredibly beautiful, and now to Lisbon and the beaches north of it.
When planning a holiday I usually start with my favourite travel website I-escape as they have a wonderful selection of small boutique hotels around the world.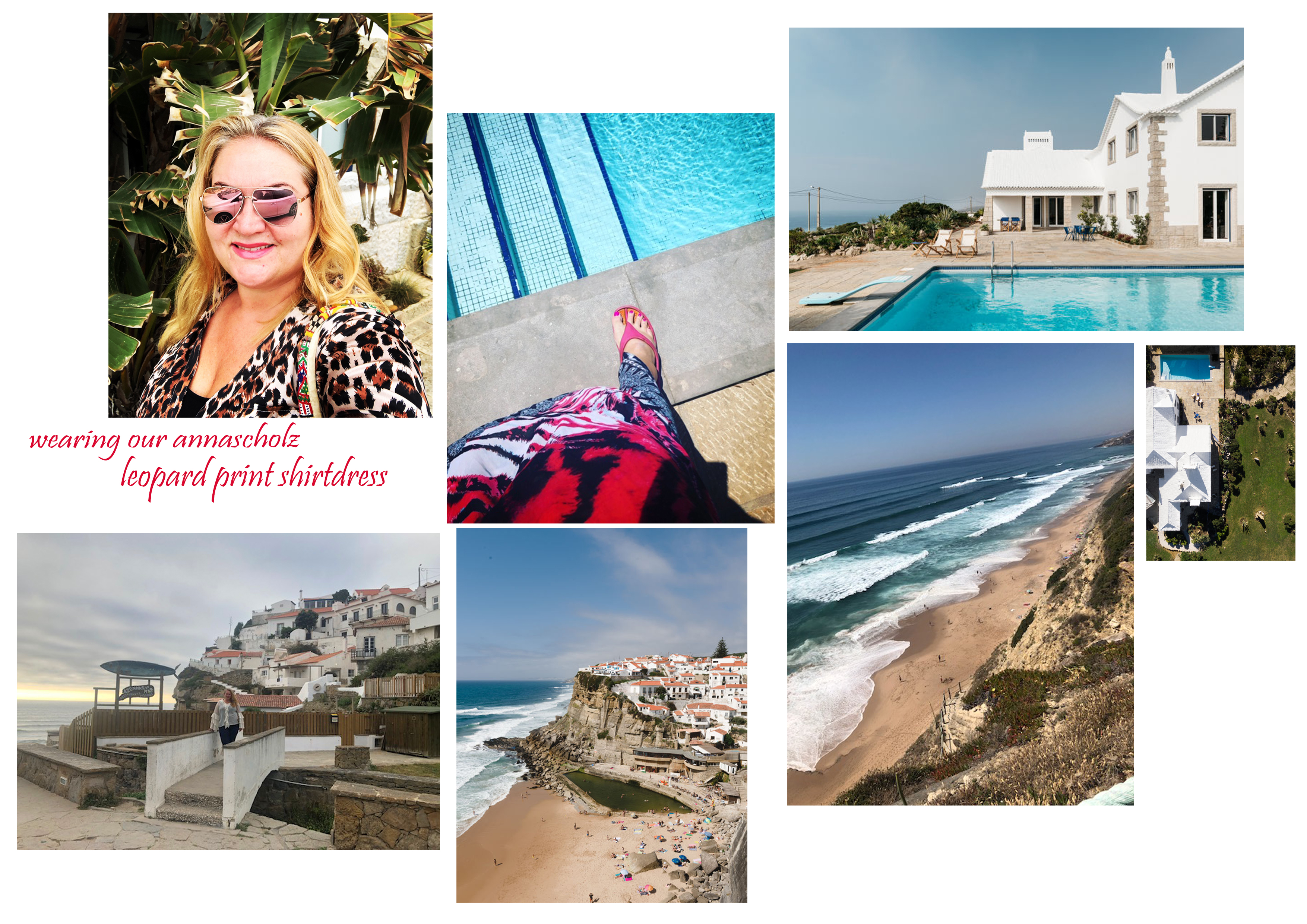 This was a family trip with my mum and my brother, so had to be a compromise between design, aesthetics, service, space and value for money.
We stayed at Casa das Arribas for 1 week as it looked just perfect. The beautiful white washed house is located on the cliffs just outside the picturesque village of Azenhas do Mar, 40km northwest of Lisbon. We hired a beautifully designed, comfortable and spacious first floor apartment with great sea-views. You can even have breakfast or dinner delivered to your apartment and the owner Chris couldn't have been more helpful.
We explored the area thoroughly and our favourite beach in the area will have to be Praia Adraga
It was empty in June and the dramatic rock formations, golden sand, rolling waves of the Atlantic and one windswept delicious bar/ restaurant (rather than a whole parade of tourist shops) makes this beach hard to beat.
I wasn't really impressed with any restaurant in particular. You find lots of simple nice places to eat some grilled fish or meat. Azenhas do Mar has an iconic fish restaurant  with the same name, which has a fantastic location with the best views ever, but it is expensive and none of us were happy with our meal. I would recommend walking down to be beach for sunset views instead.
We went on a day trip to historic Sintra which is famous for its extravagant palaces, ancient castles and stunning scenery. The highlight is the Pena Palace  , which is very unusual in design and architecture but because it is the most famous attraction it tends to be rather crowded and it is hard to get to, be prepared for lots of hill walking and stairs.
I am happy we went but it would have been probably enough to admire it from a distance, and just explore beautiful Sintra and the glorious gardens and smaller palaces.
And then I fell in love with Lisbon.
We stayed in a huge and very stylish and reasonable boutique apartment located in the historic area of Lisbon in one of the trendiest neighbourhoods
Lisbon Canaan Boutique Apartments
Dear Breakfast a celebrated much loved coffee shop is just across the road and we liked it so much that we went twice. Great breakfast options – the acai bowl reminded me of Brazil and the coffee was great too.
My favourite dinner in Lisbon was a tiny little restaurant called Santelmo around the corner from our apartment.
Very cute design, super friendly service, generous treats to start with, the grilled octopus was a delight and the lemon meringue pie rounded the meal off beautifully.
Best places for sunny cocktails is the garden of the quirky bar & restaurant Pharmacia housed in the museum of Pharmacy which we stumbled upon when simply wanting to rest our feet from climbing the steep hilly streets of Lisbon.
We visited LX factory which is a converted old factory and hosts more than 50 unique shops, stalls, bars and restaurants, perfect for meandering around for an afternoon. Take the lift to the 4th floor to go to Rio Maravilha  to sip a cocktail at their cute roof terrace with a great view of the river Tagus.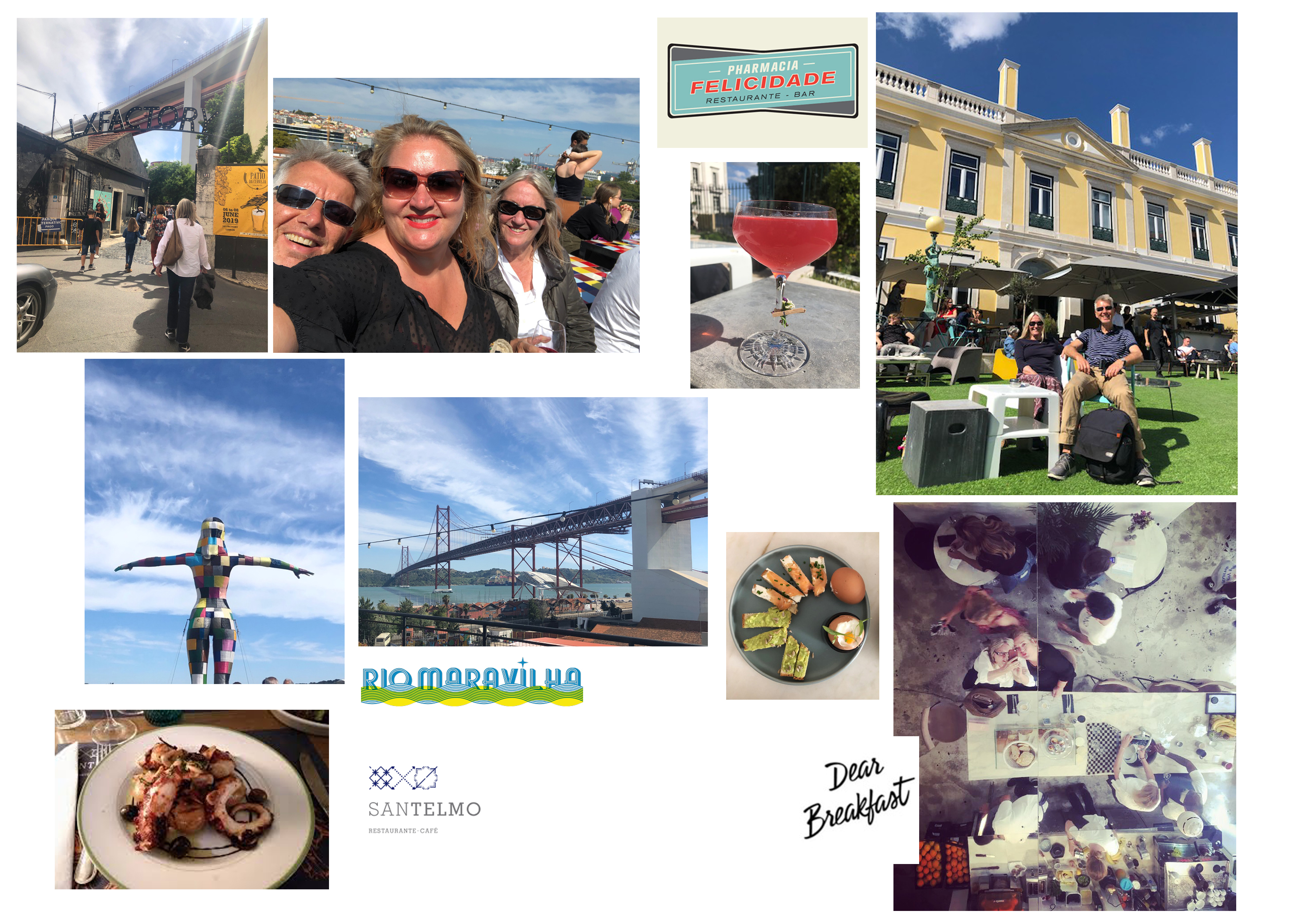 Lisbon is charming, palatial and has an air of faded grandeur. You will find impressive monuments, incredible churches, an array of quirky specialty shops, bars, restaurants and great nightlife and on top of it, it is reasonable too. We did a 2 hour open top bus tour to get an idea of the scale and most important monuments, I find these very useful to get a feel for a new city.
Top Tip: Bring comfortable shoes! You will do a lot of walking and the roads are steep and uneven. My easy annascholz summer dresses  were perfect and travelled well.
A great city to simply wander. #Wanderlust