Anna Loves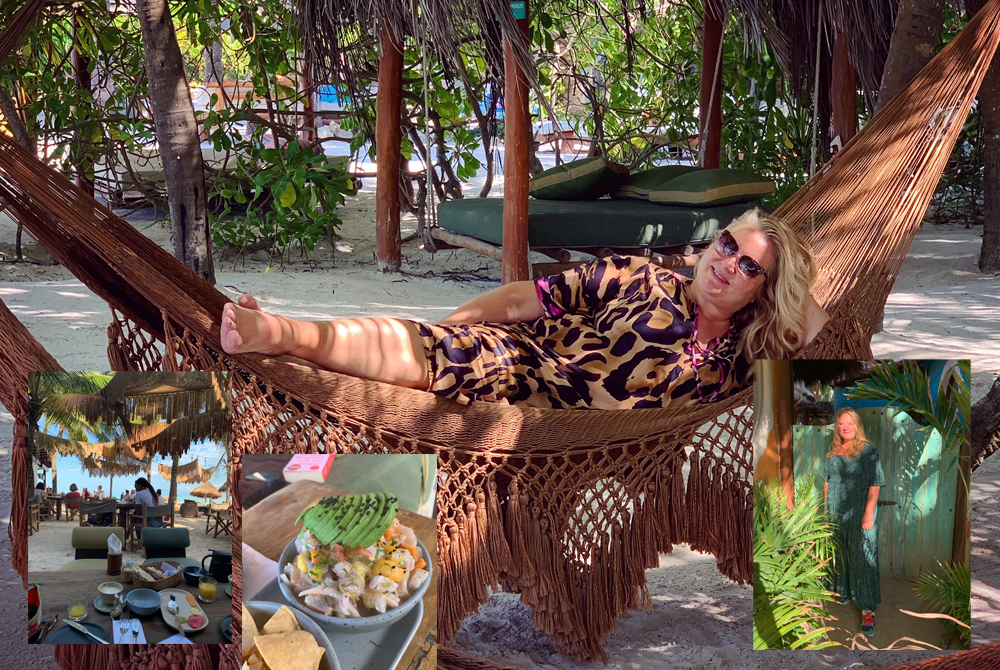 My road trip 20years ago through the Yucatan – Quintana Too – Mexico was one of my favourite holidays ever, but for some reason I had never gone back. The world has so many other beautiful places to visit, but sometimes it is worth going back to a country as big and diverse as Mexico which has so many more corners to explore.
I love the tropical climate, the pristine Caribbean beaches, the turquoise water, the Mayan temples, the history, all the beautiful embroideries, the amazing flavours of the super fresh food and the warm lovely people.
I was exhausted, after 2 years of the covid pandemic lifestyle, I have never been a particularly anxious person, but the last 2 years were hard on everyone.
Over the years, I have made some unconventional lifestyle choices, I have never married nor had kids. I have always been totally independent and cherished my freedom to travel and explore. Sometimes with partners but more often than not with my glorious friends. I love travelling with a group of likeminded people, it seems so much more fun to me.
But recently I felt like my wings had been clipped, I felt trapped. I had covid in December 2020 and was quite sick. It took me months to get my energy back, I was worried about my family whom I couldn't visit in Germany for far too long, worried about them getting sick and me not being able to visit, worried about my business and feeling lonely in the freedom I cherished before.
When my friend Helen suggested to get out of here, reboot and shake this off, I was still feeling indecisive and scared, but we just spontaneously booked to go to Tulum and then my friend Cate joined us as well.
We had the most amazing time and it felt like an affirmation of joy and sisterhood, of letting every wave on the white sandy beaches of Tulum wash away our worries. We stayed in beautiful huts in the jungle right by the beach at Hotel Pocna.
https://www.playapocnatulum.com
https://www.annascholz.com/online-store/dresses/frill-maxi-wrap-dress-2.html
Just imagine waking up to the sounds of the birds ( and the odd Iguana) in the tropical greenery, and after your morning meditation, walking through the warm sand to have breakfast right on the beach and breathe in that fresh salty air.
Wear flip-flops and floaty oversize kaftans, walk along the beach, enjoy amazing massages, nod off on the big beach beds and then order the freshest seafood ceviche or prawn tacos for lunch. Margaritas and Mezcalitas flowed freely in the afternoons accompanied by live music. In fact the only stress of the day was deciding which one of amazing choice of restaurants we should visit.
Of course I made the most of wearing our new spring collection in the warmer climate. Have a look at our new styles here
https://www.annascholz.com/new-arrivals
Tulum has changed a lot since my last visit and it has become more developed and touristy,
but if  as we did, you stay away from the main stretch and stay in the nature reserve / archaeological zone it is still pretty authentic and you can always hop in a cab if you fancy a night of bars and clubs.
We rented bicycles ( just be aware the roads are full of potholes and traffic is rather busy, so it isn't the most relaxing ride), visiting the beautiful Mayan temples of Tulum ( my favourite temples are Coba and Palenque which I visited 20 years before, but these are much further away) , the girls swam in Cenotes ( not my thing to be honest… I have a fear of dark water and big fish but that is another story), played cards, ate amazing food and most of all laughed lots. We supported each other, shared our feelings and some wisdom and talked to so many great inspiring people.
I really needed that experience to feel like myself again.
https://www.annascholz.com/online-store/dresses/double-frill-kaftan-trim-dress-mix.html
Here are some of my favourite places:
A great beach club to hang out for the day is Coco Beach https://cocotulum.com/en/beach-club/
Which serves the most amazing tostadas for lunch in a stylish delightful setting.
We met some lovely American girls who miraculously had a booking for the famous sustainable farm to table restaurant Hartwood http://www.hartwoodtulum.com
I recommend booking this before you travel, as it is consistently booked up well in advance. The food didn't disappoint and was utterly creative and delicious in a buzzing atmosphere.
The whole holiday was a culinary delight, I love all the super fresh seafood ceviche, coconuts, avocados and flavours of lime and chilli, and should you ever tire of Mexican cuisine head to Mezzanine restaurant just a short beach stroll from Pocna hotel and enjoy some delicious Thai food on their glorious terrace ( with the fastest Wi-Fi we experienced )
https://www.mezzaninetulum.com/restaurant-bar/
The Mezzanine hotel also looks great if you prefer a small hotel to a beach hut.
We spent an evening at beautiful and also very famous Nomade Hotel, but personally I found the vibe far too posey and unrelaxing and their staff seemed rather snobby too.
However, they do have the best offer of wellness, treatment options, courses and ceremonies.
There are a few islands off the coast of the Yucatan, Cozumel is the biggest one which I have yet to visit. I loved Isla Mujeres 20 years ago but heard that it is not as idyllic and untouched anymore, so we decided to explore Holbox island for the last 4 days of our trip.
Again I think tourism has exploded on Holbox in the last few years and it isn't as unspoiled as I imagined it to be, but it is still beautiful and has a much more relaxed vibe than Tulum.
There are buses from Tulum to Chiquita, where a ferry leaves every 30 minutes to Holbox.
https://www.annascholz.com/online-store/dresses/shirred-dress-3.html
We took a taxi, because the bus times were inconveniently early or late. Do shop around for taxi transfer prices as they vary greatly, and taxis are super expensive everywhere. We ended up asking a normal Tulum cab driver for a quote and he was lovely and gave us the best rate.
If you want to go swimming with whale sharks, apparently Holbox is the place to do it. I didn't 😊 Huge fish totally scare me… but there are nature reserves, seasonal flamingos and bioluminescence spectacles to explore in car – free Holbox ( there are golf cart taxis to get you and your luggage around).
We didn't really do very much, because we wanted to chill the last few days and I annoyingly sprained my ankle walking through some seaweed. Depending on the winds, you can be unlucky and have some seaweed issues along some of the coast, but the beaches are still breathtakingly beautiful and the water is calm, turquoise and shallow so far out.
I definitely think we stayed in the most beautiful hotel on the island
https://holboxcasalastortugas.com a stylish small boutique hotel with 3 amazing restaurants and super friendly service. I loved everything about this hotel, amazing rooms, delicious food and the best thing was a button for service on your beach bed. No wonder we didn't get up to much.
Thank you again to my amazing girlfriends who joined me on this magical trip and made it extra special x