Anna Loves
Renowned South African photographer Jodi Bieber has a powerful series of photos called Real Beauty that is definitely worth checking out!
The photos depict women who live around Bieber's own community and she encouraged all of the women she photographed to explore their own personalities and fantasies for their shots.
All women have "Real Beauty," Bieber explains. "Real" is  something we all possess just in the fact of our existence. "Real" is every woman in her own uniqueness.

This body of work was "inspired by a number of events," describes Bieber, "the primary being my own life. My forties have brought a feeling of more comfort within my own skin than when I was younger even though my body shape has shifted dramatically."
Each shoot was a collaboration between Bieber and her subject. The women were photographed their own homes and were encouraged "to explore their own identity in relation to beauty and to live for a couple of hours in an environment of elements of fantasy."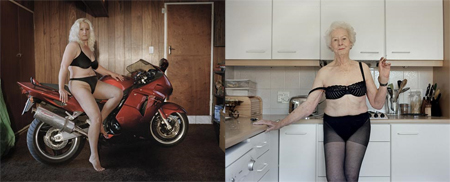 No photoshop has been used. Instead the photos gave each woman the space to create a fantasy image of themselves as they are.
To see more of the Real Beauty series as well as Bieber's other powerful photos, visit: http://www.jodibieber.com/index.php?pageID=17&navLay=2