Fashion
On her fab fashion blog, Oh, the Places You'll Go, our friend Emma is having a special review of Anna's Autmn-Winter 2011 collection.
We love Emma's blog and her flair for fashion. It's always fun to read her blog, and to see how she styles garments. It's also interesting and informative to read her thoughts about what makes the garments work for her figure and what to wear them with.
Emma writes, Many of you are aware of the fact that Anna is my favourite high-end designer and that I love the innovative looks, prints and cuts she gives us – CONSISTENTLY with each new collection …[that she has] specifically worked at creating for our bodies.
First off, Emma is focusing on Anna's White Label collection with a rave review of the blur print double silk frill tunic.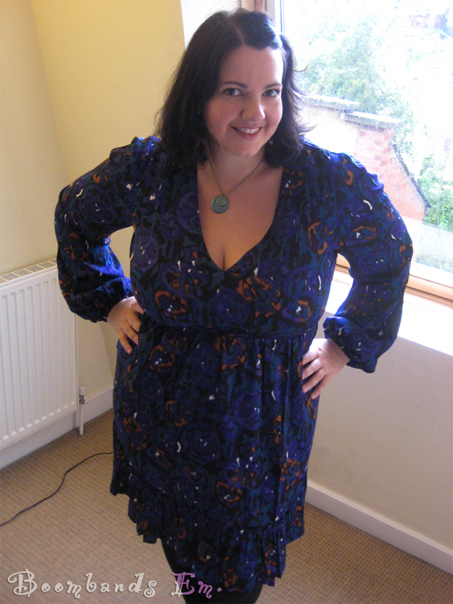 Before Anna, I had never really worn tunics, I was unsure of how the shape would work for me, but she does this so well – I ADORE the empire line waist which is nipped in with a little line of elastic, it affords looseness but also shape – the neckline is both flattering and sexy and I love how loose the sleeves are. I could easily kick this up a gear with a thick black belt and some heavier eye makeup…
Next, Emma enjoyed modelling the Navajo feather print digital jersey T-Shirt dress and the "loving" softness of the jersey fabric.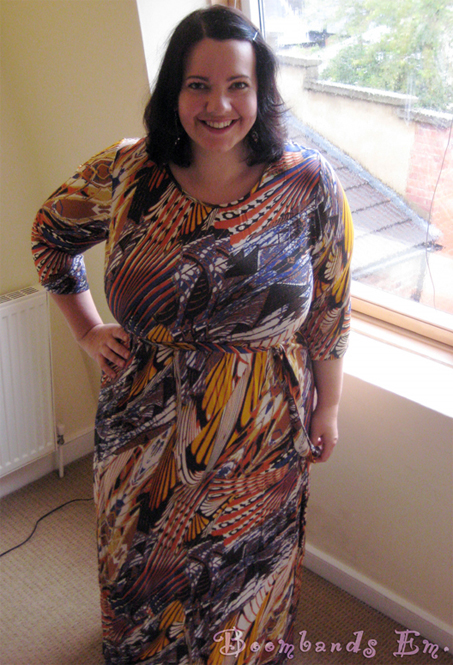 I never wear shapes like this. I've mentioned before how I love structure… but I appreciate the detailing here – how a simple belt can afford me structure. … [The fabric] felt soft and lush on my skin; REALLY comfortable and as winter approaches, I can see that it would feel soft and deliciously warming under a coat, with a pair of tights and nice black heels.