Anna Loves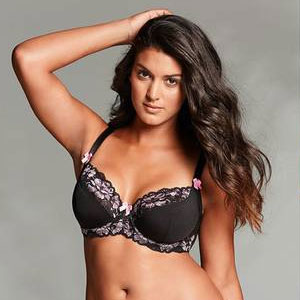 Attention shoppers! Adore me, a New-York based lingerie company has found that plus size brunette models are more likely to sell their underwear than slimmer and blonde models.
Consumer responses to the companies first national advertising TV spot in America in January this year produced some amazing results. The three different TV adverts featured one using blonde models, another brunette models and the third one a plus-size brunette model.  They then applied a common marketing strategy called A/B testing to these adverts. This is where consumers are shown different ads in order to measure their buying habits and preferences.
The result was that the plus-size brunette model generated four times as many sales as the advert featuring blonde models. But more than just the size of the model, they found that hair colour also influenced the sale of their product. They also found the ad that performed best overall featured multiple brunette models, none of whom had actually been photo shopped. All of this going against the normal images that the fashion industry transmit to the public.
"Brunettes overall sell better than blondes… Our customers — and women in general — prefer brunettes when it comes to purchasing lingerie. It's what we've seen,"  said the founder of Adore me Hermand-Waiche. He continued to say "There's an overall mentality that you have to be super skinny… We are showing that we offer lingerie for everyone. Unlike other leading lingerie brands, Adore Me believes every woman, at every dress size, deserves fashionable lingerie that makes her feel sexy, confident and beautiful. That's why our styles range from sizes 30A-44G – a size range twice more inclusive than any of our competition."
"We very proudly feature our stunning plus-size model in many of our campaigns, including our recent national TV ad campaign. We were happy to see that featuring a plus size model in an ad quadrupled sales. The amount and quality of traffic clearly showed that plus size models resonate with women of all sizes and boost sales across the board, and not just in the plus-size line."
It would seem consumers are becoming a lot savvier, and appear to purchase when they can relate to the model shown in the desired product.  In this case, for the sales of lingerie bigger is better and brunettes may just actually have more fun (or sell more products at least.)