Anna Loves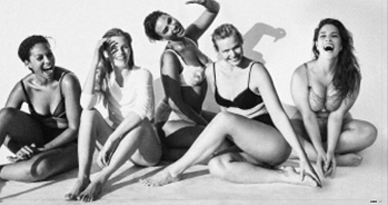 Models from the organization ADLA (check out our previous post here) stripped down in Iceland for the native's issue of Glamour magazine, for an eight-page spread designed to empower other women to embrace their individuality.
Launched in 2014 and recently signed to IMG Models, ALDA was created by five top plus size models, Ashley Graham, Danielle Redman, Inga Eiriksdottir, Julie Henderson, and Marquita Pring .
They are not only widely successful, but they also use that success to spread a message of self-love and show women of all shapes and sizes that they are beautiful.
ALDA, which has an Icelandic meaning "wave" has without a doubt made a splash in the modelling industry.
Standing together as an inspiration for all body types and shapes, the group not only looks amazing in this Glamour spread, but this will have the power to make a huge impact on women everywhere.
Body image issues are not a new topic in today's media, but recently there's been an increased push toward size acceptance and body positivity. Women worldwide are speaking out against society's narrow minded idea of what it is to be beautiful. We still have a long way to go before editorial spreads like this one become the norm, but we feel this is a right step in the direction.