Anna Loves
Take advantage of the long summer nights and catch a movie at one of these outdoor cinemas. This is the new and exciting way to watch a movie, sitting under the stars eating popcorn. With films from all different eras and genres there is definitely one that you won't want to miss. Check out the following cinema groups who have set up pop up outdoor cinema screens near you:
British Summer Time Film Festival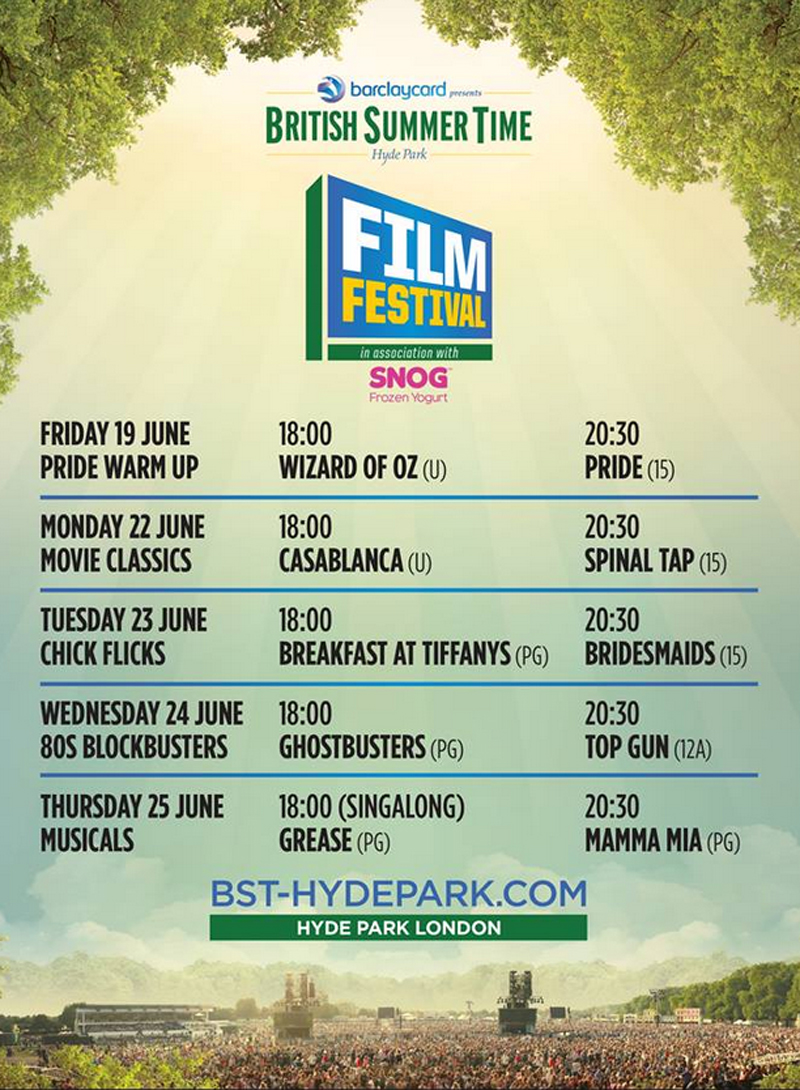 As well as the several major names including Taylor Swift, Blur, Kylie Minogue and The Who performing concerts for Barclaycards British Summer Time festival, they have decided to put on five themed film nights in collaboration with SNOG. Catch 80's blockbusters, chick flicks, classic films and musicals you can sing along to all in the beautiful setting of Hyde Park.
Michaela from the team has already been to see two movies and really recommends not missing out on the opportunity.
Screenings are completely free of charge but access is on a first come, first served basis, so grab a picnic blanket and head down to Hyde Park to secure your spot.
The Luna Cinema put on films all over the UK.  Their screenings follow one simple formula:  a classic film on a big screen in a beautiful or prestigious setting.  From Alexander Palace in London to the Royal Botanic Gardens in Edinburgh.
Using state of the art screens, digital projectors and bespoke sound equipment they provide a cinema quality visual and audio experience whilst you sit under the stars.
The team add 'Come and join us this summer for some incredible cinematic adventures!'
Tickets range from £16.50
Check out the event calendar here
 "Watching a movie under the stars in Somerset House's beautiful courtyard on a balmy summer evening is a near-perfect London experience." TimeOut
For a near-perfect London night out, you can't beat watching a movie in the beautiful courtyard at Somerset House.' Time Out
Film4 Summer Screen at Somerset House is back this August for two weeks of classic, cult and contemporary films. Enjoy the spectacular neoclassical setting of The Edmond J. Safra Fountain Court at Somerset House for one of London's most beautiful open-air cinemas.
As the sun sets, live DJs will create a soundtrack inspired by the upcoming film as cinema-goers can chill out in the courtyard with picnics and drinks. 
Tickets range from £16.50
Get your tickets here 
Backyard cinema
'It began after an underwhelming trip to the movies. "That movie was great," I thought as I stretched my now aching back, "but why is the cinema just not good enough?" And so, feeling slightly sick from my dry hot-dog and stale nachos dinner, the idea for a homemade cinema was planted.  A week later in a North London garden, construction began. Homemade screen crafted from recycled wood, acquired sofas lugged home, grill cleaned and circus lights hung. Backyard Cinema was born.' On the website Dominic of Back Yard cinema explained his reasons for beginning this outdoor cinema experience.
Held on the cobble stones of Camden Market, Back Yard delivers retro short films, well known classics and themed nights full of surprises. 
Rent a bean bag or a deck chair, whilst eating a burger from Honest burger (official caterer) and drinking a frozen cocktail. That sure beats stale popcorn and flat cola. 
Standard tickets cost from £16.50 (drink and food packages available)
Get your tickets here
Rooftop Film Club is back for another film filled season of classic, cult and recent film releases on London's finest rooftops this summer.
Enjoy fabulous food, cold drinks and watch your favourite movies on the big screen with the London skyline as the back drop.  Whether it's a cult movie with your mates or a rom-com with your other half, the Rooftop Film Club has something for everyone to watch and enjoy.
Tickets start from £14
See what's on here 
In its third year Vauxhall One Summer Screen will be bringing you the best in feel good cult classics in the very heart of Vauxhall all for free. Vauxhall Pleasure Garden's secluded enough to enjoy the film in peace but with great transport links to get home afterwards. Bring a blanket from home or buy one on site, and snuggle up with your loved ones under the stars on a warm summers night. There is also deck chair hire available. Some of London's best street food vendors will be setting up for you to grab some amazing eats whilst watching the film.
As the website says 'Bring your friends, bring your boyfriend, bring your nan, or just bring yourself and enjoy a free film in peace on a warm Tuesday evening (we hope, we can't make promises on the weather – this is England)!'
Let us know if you're thinking of heading out to one of the cinemas above and what film you may watch. The Anna Scholz team already have a film filled Summer ahead of them.