Anna Loves
NY Fashion Week kicked off a crazy couple of weeks of all things fashion. Whilst there were plenty of familiar models on the runways this season, we saw an unprecedented number of plus-size women who were also rocking those catwalks.
To avoid any spoilers the identity of each designer on the Project Runway Catwalk was kept secret but it's pretty hard not to determine that the collection featured in the images , came from none other than the show's first ever plus size womenswear designer, Ashley Nell Tipton.   "I'm very proud of it," designer and Project Runway judge Zac Posen told The New York Daily News of the show. "It's a big moment for not only the runway, but New York Fashion Week."
Beth Ditto The frontwoman for the group 'Gossip' closed NY Fashion Week, walking the runway for Marc Jacobs. Rocking a look that can only be described as a mix between Jean Harlow and Courtney Love, Ditto took the catwalk by storm. This isn't the first time she has  ruled the fashion roost, as she has previously walked for Jean Paul Gaultier .
Chromat's Momentum show featured plus models Sabina Karlsson and Denise Bidot walking alongside their straight-size counterparts. Again another fantastic show from Chromat designer Becca McCharen who regularly designs for women of many sizes, and who has included plus models on her catwalk for the last two seasons.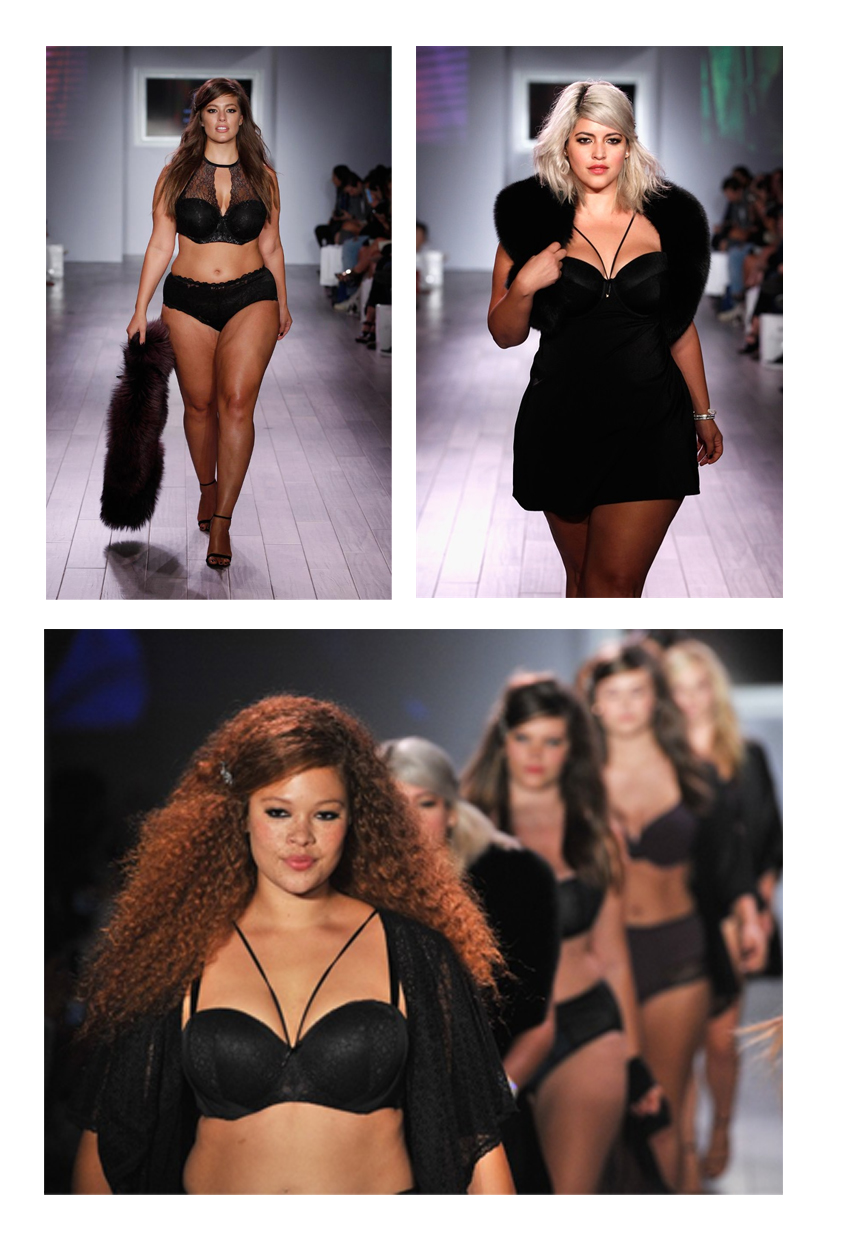 We feel that the gorgeous Ashley Graham owned the catwalk this season, featuring exclusively curvier models and even more radically, her partners at Addition Elle chose to showcase her exclusive lingerie line.
The show was met with positive reviews from the fashion press.
Graham, who was the first plus-size model to appear in Sports Illustrated magazine was also spearheading various other online campaigns to promote equality for curvy women during New York Fashion Week. She appeared in Lane Bryant's advertising campaign — #PlusIsEqual,  the aims of which are to put curvy models on the same footing as skinny ones. The brand took over Times Square during fashion week creating huge media interest.
Of all the models taking to the catwalk during NY Fashion Week,  one really captured our attention – Candice Huffine.  The first plus size model to feature in the Pirelli calendar, she also featured in Lane Bryant's #PlusIsEqual campaign.
Candice shook things up with her turn in Sophie Theallet's Spring 2016 fashion show. Candice had already shone in the brand's straight-size campaign, but her appearance on the catwalk is even more ground breaking. " I made my #NYFW debut for a designer who has the most beautiful soul and inspiring passion for life, fashion, beauty and people!" she wrote on Instagram.
Last season, NYFW  started to break new ground in using diverse models on the catwalks (read our views of last season here) and this season has gone a step further .  With plus size and straight sized brands showcasing plus models it's encouraging to see the fashion industry as a whole attempting to be more inclusive. We're so excited to see plus size fashion personalities like Ashley really leading the way in getting the plus size fashion industry noticed . As always we really hope we see these changes being incorporated in other fashion weeks across the world and not just at NYFW. We're excited to see what the future holds and hope that this isn't just a short term fad but a long term change.