Anna Loves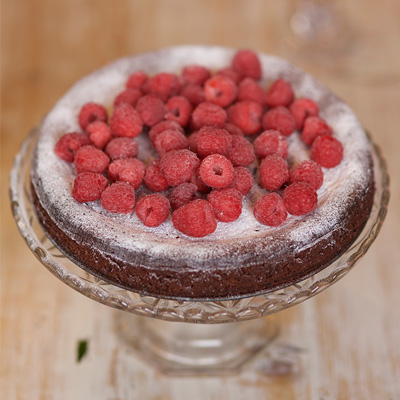 This is one of my favourite treats to indulge in. My gluten and sugar free version still tastes incredibly delicious, but I have given instructions to add some amaretti biscuits in to the mix for added flavour and texture.  I love to serve mine with yoghurt and raspberries
What you'll need :
–          150g Ground almonds
–          2 x 100 g very good 70% dark chocolate (cocoa lowers blood pressure)
–          100g Organic butter ( softened or melted)
–          200 g agave sugar
–         5  Eggs
–          Raspberries ( high in ellagic acid, which helps fight cancer and inflammation)
–           greek yogurt ( full of probiotics which help your digestive system)
Split your egg whites and yolks in two different bowls.
I always whisk the egg whites until they are stiff first and set them aside, so I can use the same mixer for the next step.
Whisk your egg yolks with the agave sugar until they are looking creamy, then add the slightly melted butter and the ground almonds and whisk gently.
Melt the chocolate in a pot over boiling water and mix the melted chocolate into the mixture.
Finally add the stiff egg whites gently with a large wooden spoon and mix til all combined.
(Now if you don't care about the gluten and sugar free aspect of this cake, add 50g of finely crushed amaretti biscuits which adds another flavour to this cake, and only use 100 g of ground almonds)
Pour the mixture into a round slightly buttered cake tin and bake at 160 degrees for about 30 minutes.
I always set my timer at 25 minutes and check if the middle of the cake is firm with a fork as I like the slightly undercooked gooey texture, but that is up to you.
Add the greek yogurt and raspberries 😉