Anna Loves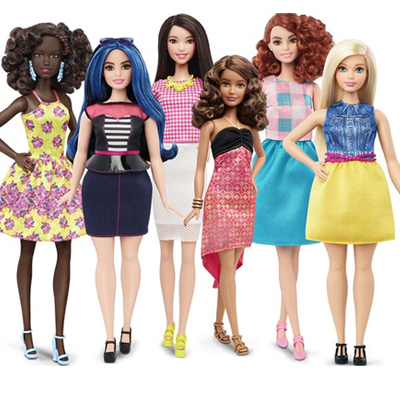 You may remember that recently we wrote about a project named Lammily. An American artist created the prototype for a doll that would represent an average BMI and body size, something that no other doll offered.
We are pleased to say that this has now changed with Barbie creators Mattel revealing three new body types for the doll to reflect a "broader view of beauty".
The doll has always attracted a certain level of criticism for giving young and impressionable girls an unrealistic idea of what the female body should look like, and has been accused of promoting an unhealthy body image. Mattel has finally realised 'a responsibility to girls and parents to reflect a broader view of beauty'.
Evelyn Mazzocco, senior vice-president and Barbie's global general manager, said: "We are excited to literally be changing the face of the brand – these new dolls represent a line that is more reflective of the world girls see around them – the variety in body type, skin tones and style allows girls to find a doll that speaks to them. We believe we have a responsibility to girls and parents to reflect a broader view of beauty."
The project was kept top secret, but staff were encouraged to push the Barbie range and offer ideas on how to boost and improve the much loved doll.
Richard Dickson, president and chief operating officer of Mattel, said: "For more than 55 years, Barbie has been a global, cultural icon and a source of inspiration and imagination to millions of girls around the world. Barbie reflects the world girls see around them. Her ability to evolve and grow with the times, while staying true to her spirit, is central to why Barbie is the number one fashion doll in the world."
We are very happy to see the changes that are being introduced to the much loved toy Barbie, but we would also love to know if Ken getting this amazing make over too (since posting people have thought of this idea too, and have created what they think Ken Dolls make over should look like – see pics below)?
Do you think this is a step in the right direction for children's toys in general?
I guess we will have to watch this space…..