Anna Loves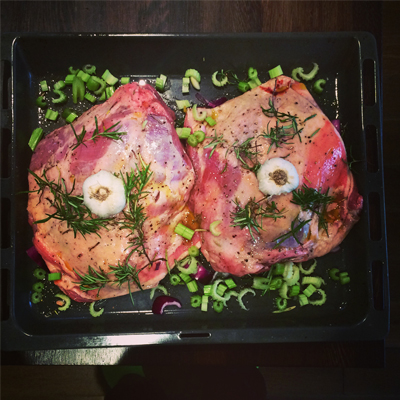 Easter is just around the corner and for me there is no Easter without lamb.
I shall share with you the easiest fool proof lamb dish you can imagine, along with the perfect roasted vegetables.
Try, taste and let me know what you think. Love Anna'
#annaskitchen
EASY PEASY roasted Lamb Shoulder
1 large bunch fresh rosemary
2 kg quality shoulder of lamb
1 chopped red onion
2 celery stalks
olive oil
sea salt
freshly ground black pepper
1 bulb garlic , unpeeled, broken into cloves
Preheat your oven to full heat. Slash the fat side of the lamb all. Lay half the sprigs of rosemary and half the garlic cloves on the bottom of a high-sided roasting tray, rub the lamb all over with olive oil and season with salt and pepper. Place it in the tray on top of the rosemary and garlic, and put the rest of the rosemary and garlic on top of the lamb.
Add the chopped red onion and celery stalk to the tray, these will flavour the gravy nicely.
Tightly cover the tray with tinfoil and place in the oven. Turn the oven down  to 170°C/325°F/gas 3 and cook for 4 hours – it's done if you can pull the meat apart easily with two forks.
Remove the lamb from the oven and place it on a chopping board. Cover it with tinfoil, then a tea towel, and leave it to rest for 10 minutes before serving
Drain all the juice from the tray and keep it in a jug as delicious gravy.
I like having large groups of friends over for Easter lunch so I usually buy 2 lamb shoulders and simply double the other ingredients.
You don't have to fuzz with this dish, just leave it in the oven and let it slowly cook , the better the cuts of meat the better the flavours.
You can serve the lamb with potatoes of your choice and just follow my recipe for roasted vegetables below.
Roasted tray of vegetables
4 sweet potatoes
2 large aubergines
3 red onions
2 red peppers
Olive oil & Balsamic glaze
Salt and pepper to taste
This is one of my favourite ways to add lots of veggies to my dinners, by simply roasting a huge tray of chopped vegetables.
I like a combination of sweet potatoes, aubergines, red peppers and def red onions, but you can add anything you like. I also like fennel and courgette.
Just chop up all the vegetables and arrange them on a baking tray.
Add some generous amount of olive oil and drizzle balsamic glaze on top, salt and pepper to taste.
Roast in the oven at 180 degrees for 45 minutes to 1 hour, and stir them up a little half way through the roasting.