Anna Loves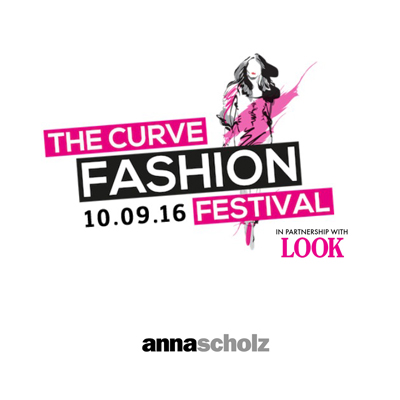 We are delighted and excited to announce that we will be participating in The Curve Fashion Festival 2016, to be held this coming September in the fab city of Liverpool. In its second year The Curve Fashion Festival is the UK's largest plus size fashion event and for 2016 it is in partnership with Look Magazine, Britain's number one selling fashion magazine.

Following the huge success of last year's debut event, it is back and bigger for 2016. The event will feature a full day of shopping, fashion shows, industry seminars and celebrity meet and greets and will take place on Saturday 10th September 2016 at the Exhibition Centre, Liverpool. Tickets for this very exciting event are now on sale here.
At the festival you will be able to see the annascholz Autumn/Winter 2016 collection on the catwalk as well as up close and personal on the Anna Scholz stand where you will have the opportunity to buy from the collection and also get to meet Anna herself.
Gilly Ferguson, Editor of Look, says: "We're delighted to be celebrating The Curve Fashion Festival for 2016 – this partnership is not simply about embracing curve fashion, but about championing the Look audience – a bunch of brilliantly stylish real women who come in all shapes and sizes. All of us united by a fiercesome love of shopping!"
For more information on The Curve Fashion Festival, visit the website http://thecurvefashionfestival.co.uk and follow @CurveFashionFes for daily updates.
PSST ; Look magazine readers can get 20% off tickets until Tuesday 5th April (discount code here).