Anna Loves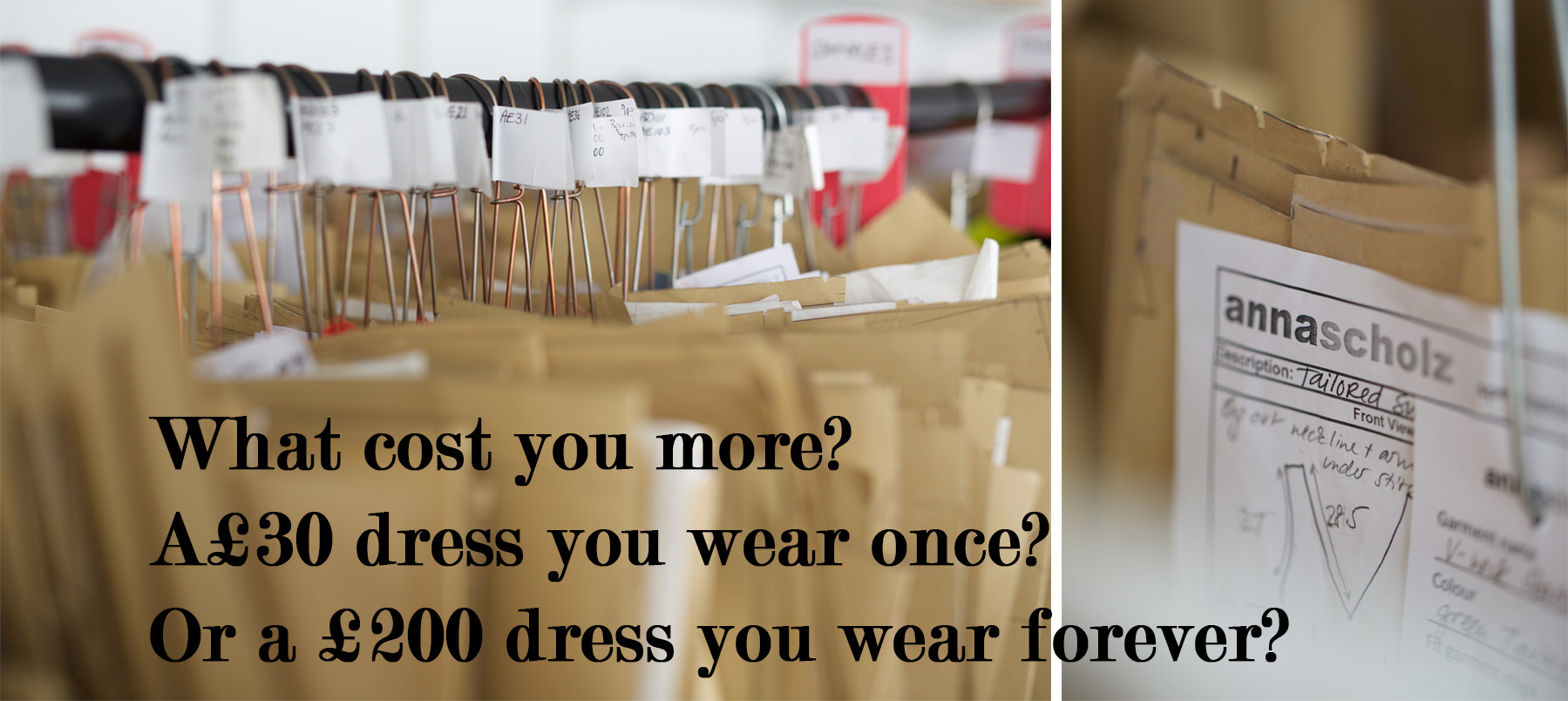 What makes an Anna Scholz Design?
We all love fast fashion, and the excitement of being able to shop 24/7 from our iphones or tablets – but there's a great distinction between well- crafted fashion  and throwaway style. By this, I mean the kind of dress you buy on a whim because it's so ridiculously cheap, you wear once and consign to the back of the wardrobe for eternity.
We're all guilty of this – even me, but I took a step back to examine my shopping habits because after all as a designer, I know the process that goes from turning a sketch into a reality. It's not just a question of an artful moment of inspiration that will suddenly result in a new collection – but a long and complicated process that requires teamwork, patience and stamina.
The end result? At Anna Scholz we aim to create fashion pieces that you'll wear season in, season out.
Now that you know we don't produce clothes by magic (if only we could!) I thought I'd talk you through some of the stages that go into an Anna Scholz design, from the drawing board to the factory and beyond..
First off, the design.
Just imagine the scene in our design studio – we're all in the midst of a  brainstorming design session.  I've just visited a flea market where I bought a number of vintage kimonos because I loved the delicacy of their floral prints. My colleague Liz is flicking through Instagram for inspiration and the pin-board above my desk is swamped with a mixture of magazine cuttings, postcards and random bits and pieces I've picked up on my travels.  Amidst the banter, we look at our sales figures, what worked, what didn't and why. We discuss what celebrities are wearing, what's hot on the catwalks, and most importantly, what would suit our customer.
Gradually, ideas take shape. At the basis of every collection are three essentials: colour, fabric and print. Getting the colour right for a curvy customer can be tricky.
During the 20 years that Anna Scholz has been in business, we've learned that we always need to include some bright shades for the extrovert in all of us, whilst recognising that blacks and neutrals may be a safer option – but are no less chic.
The skill is getting the balance right.
Next step is my favourite – print and fabric. Since I started making my own clothes as a teenager I have always trawled flea markets and vintage stores for inspiration. Our studio is full of rails and boxes of amazing clothes that I have picked up over the years that feed my magpie vintage habit.
Recently, I was very excited to work with textile artist Gina McQuen to develop a delicate 'Japonaise' print design that we had created in house.  I came across Gina who is a botanical artist that specialises in tattooing her amazing designs onto leather home furnishing's  – so it wasn't a big leap of faith for us to ask her to switch her skill onto fabric.
We asked Gina to work specifically with traditional Asian flowers, peonies, chrysanthemums and orchids, combining them into wild bouquets. Then Liz developed the artwork which we sent to a fabric mill in France where a sample was printed. Once it arrived back, we tweaked the print and designed styles that would show it at its most beautiful best.  In short – it's an exclusive design that you won't find anywhere else.
For other fabric choices, agents visit the studio with examples from their latest collections, and on occasion we travel to trade shows to get a handle on what the big boys of the industry are promoting.  Just like print, fabric changes every season and I love the fact that, technically, it offers more and more options for designers like us. We've got a brilliant laser cut neoprene in this spring's collection – something that even a decade ago was only available to selected couture customers. We also recognise that a designer collection requires quality materials, hence our cashmere and silk blended knitwear and our modern synthetics that are easy care, but not scratchy, clingy or sweaty.
Once the fabrics are in we create the clothes. Something, that's easier said than done.
One of the challenges of designing for the curvy market is grading the garment patterns so that the clothes actually fit the customer and accentuate our best bits. I can always tell when a curvy collection is designed to a woman's body, or just conceived as a cover up – and it's all in the fit.  You've all seen those shapeless dresses that rely on unnecessary extra fabric to accommodate a larger figure – so I'm sure you know what I mean.
In fact, grading is an art form we've spent two decades perfecting. In layman's terms it's an extra fabric allowance incorporated into the pattern that varies dependent on the sizing. For instance, curvier women tend to have bigger busts and bigger upper arms, but thanks to our expertise, we can make these so-called 'problem areas' look their very best.
Normally, once the mood and storyline for the collection are designed and the prints and colourways chosen, the most complex and technical part of designing the collection takes place.
I sit down with my pattern cutter Stephanie and we create a 'master' pattern that is then made into a sample using old fabric by our machinist . Once we have a number of these samples in different sizes, we'll get together for an initial fitting. We usually have a fit model visit the studio to try the samples on. I like to try them on as well, as it's really important for me to see my designs on different body shapes.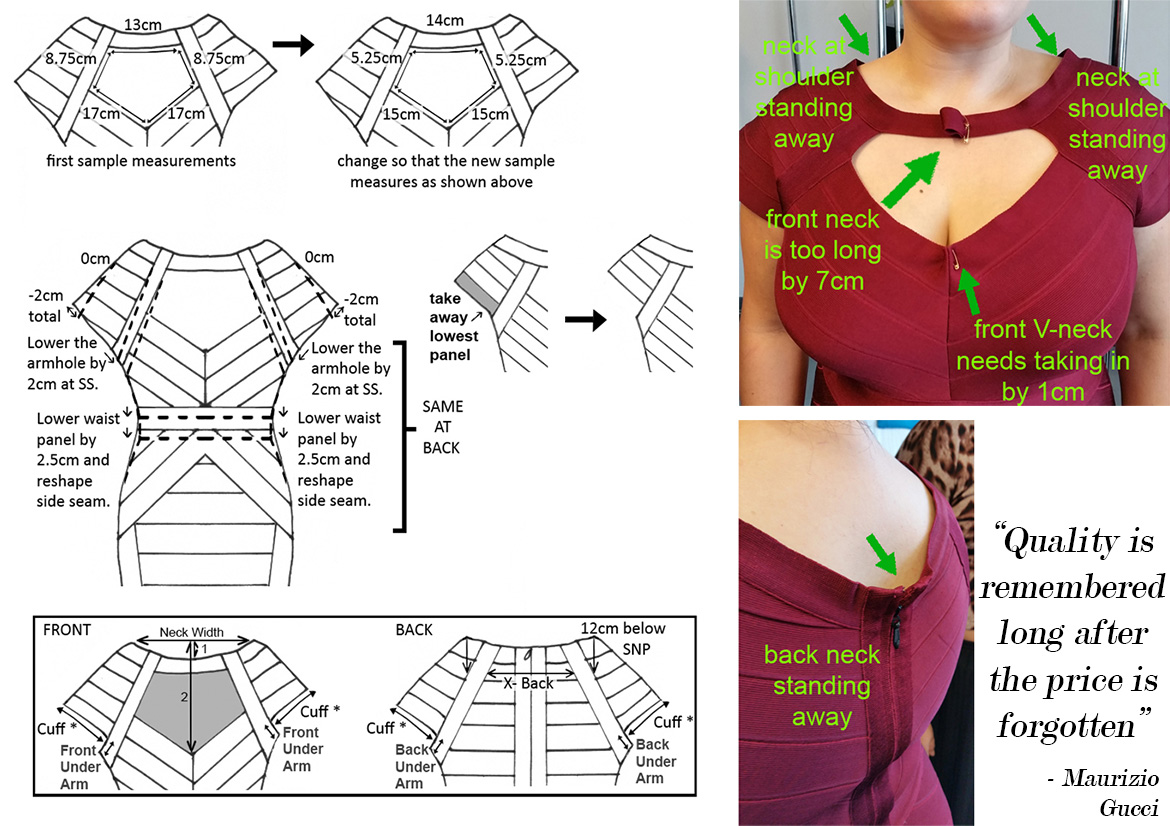 Then we make any necessary alterations that we feel are needed. Once the sample feels right, we'll make the garment in the actual fabric we've selected for production. Sometimes the fabric choice we've made means we have to make further alterations. For instance, if there's a lot of stretch in a fabric, the pattern can be adjusted to give a better fit, or if it's very rigid the grading can be a bit more generous.  Each pattern piece is created through a process that's half sheer creativity and half technical engineering – but both require a LOT of tweaking to get the right results.
Multiply all the above processes by about 80 (the number of garments in a collection), and you'll see that the phrase 'One Size Fits All' most certainly does not apply to Anna Scholz. And, just when we think it's all over, the process of photography and styling begins for the website – but that's another story I'm going to cover in another newsletter.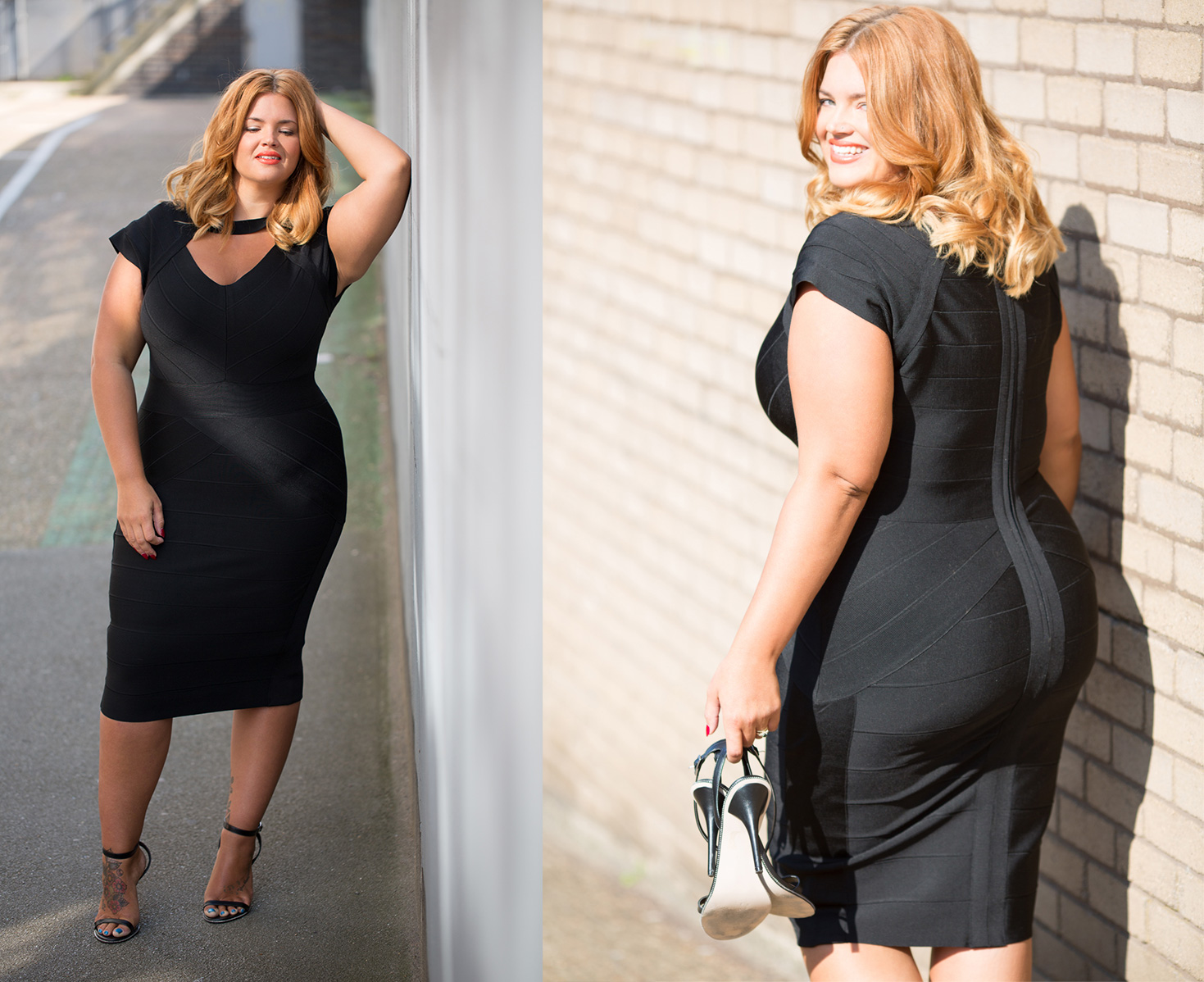 Before I go, there's one final thing I wanted to explain. We are a small designer label and produce our pieces to very high standards.  For instance, Gina's exclusive print has been hand-painted and then printed digitally in France. All our garments are produced by small factories, mainly based in Europe and by people who get paid a proper wage for their hard work. We produce a limited number of each style, so that you won't bump into your best friend in the same outfit (unless, she's got incredible taste too!) . And, crucially, every style is fitted in our London studio, to our own exacting standards.
Ultimately this means that ours costs are a little higher than some of our mass market competitors, and we accept that. Because we all know that quality, doesn't necessarily come cheap. After all, fast fashion is one thing, but clothes created with care and integrity is another industry all together. One that we're proud to be part of, and we hope you are too.
Now, back to the drawing board – there's a new collection that needs designing.
Xx
Anna