Anna Loves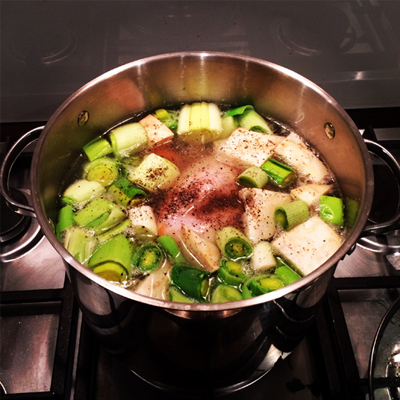 So British Summer time is trying to break through, but the best remedy whilst it's miserable outside is some good Old-Fashioned Chicken Soup. I had to share my recipe below for you to try. My Top Tip: This soup is always handy to have in your freezer and as soon as you feel a cold coming, defrost and make yourself feel better with a hot cup of soup!

You'll need:
1 large best quality organic chicken ( the better the chicken, the better the broth)
4 carrots
4 leeks
1 celeriac root
Salt & Pepper
Optional small soup noodles
Put your chicken into a large pot with 2 chopped up carrots, 2 chopped leeks,  chopped celeriac  root and cover with water.
Bring to the boil and take off some of the foam with a small sieve.
Turn the heat down and simmer for about 2 hours ( can be 3 hours if you have the time)
Remove the chicken and vegetables from the stock, again I use a small sieve to fish out the small bits. I throw all the overcooked vegetables away and chop  up the remaining carrots and leeks and add them back into the soup.
Finally I fillet the chicken and put all the meat back into the soup.
For a more filling variety, you can add a handful of tiny soup noodles to the soup and let them simmer for a few minutes until soft.