Anna Loves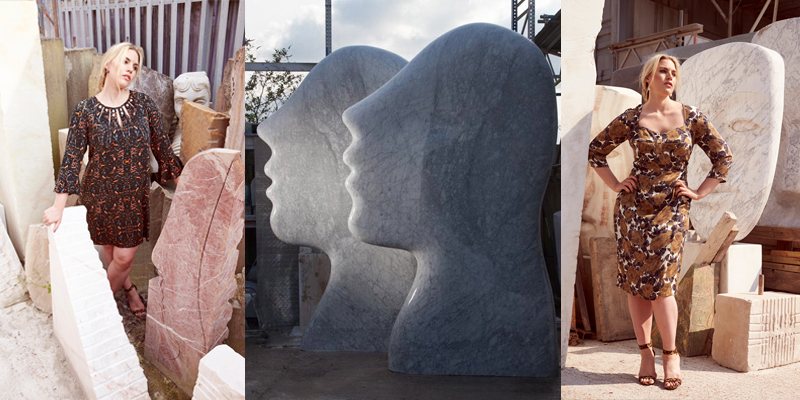 In our most recent photo shoot for the 'La Dolce Vita' collection you will have seen some amazing sculptures that we used as props in the images. We were incredibly fortunate that the location for the beautiful sculptures are right here in the UK. Sculptor Paul Vanstone's workshop is next door to our studio. Who'd have thought that such an incredible location could be found right on our door step?
Paul studied sculpture at Central St. Martins School of Art, before completing an MFA in sculpture at the Royal College of Art graduating in 1993. Following his graduation, Vanstone travelled and worked across the world honing his art in such influential places as Italy , at the traditional marble carving studios near the famous Carrera quarries , Berlin and Rajasthan where he learnt traditional marble carving techniques.
On returning to the UK, Paul became an assistant to leading British sculptor, Anish Kapoor. Works carved by Paul on Kapoor's behalf have been exhibited at major galleries including the Tate Modern in London and he most recently exhibited at the Chelsea Flower show in London.
His inspirational works now include torsos, heads and figures sculpted from different forms of marble at his London based workshop. The moment we saw his sculptures we knew that they would work perfectly with the collection pieces, that we had found the perfect location for the photoshoot and couldn't wait to get started. We're sure you'll agree that the clothes and sculptures come together beautifully and celebrate sophistication and retro style. This is most definitely one of our favourite photo shoots
We have included a selection of gorgeous images from the photoshoot below and you can see more of Pauls work here.