Anna Loves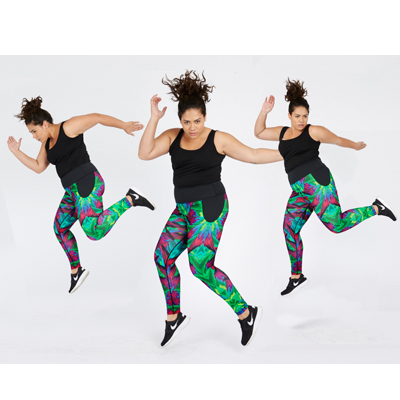 The Olympics are here and we're so excited to see the world's greatest athletes competing against each other.
Whilst figuring out what and who we wanted to watch compete as well as organising some classes ourselves, we felt inspired by a brilliant campaign that puts a twist in all things denim and fitness just in time for the games.
One of our friends , Jessica Svoboda (founder of Svoboda Denim who supply our svoboda jeggings who has more business ideas than anyone else we know) has recently re-branded her label to 360 Stretch. The company is back with a second campaign that features the 5'10", size 22, 315-pound 2016 Rio Olympic 75+kg weightlifter Sarah Robles for their #StrongLikeSarah campaign.
The campaign follows Sarah Robles completing both Olympic Competition Lifts (Snatch and Clean and Jerk) whilst wearing her 360 stretch jeans.  In the video, Sarah shows the extreme flexibility and range of motion 360 Stretch™ Jeans gives whilst looking absolutely fantastic.  We love our jeggings for the same reason, although I'm not sure we'd demonstrate this whilst working out at the gym.
Jessica was quoted saying "I started watching Sarah Robles in 2012. As a similarly built 5'11," 245-pound woman, her athleticism inspired me. Shortly after Sarah's performance at the Olympics, I was enraged when the media gave more coverage to computer trolls (who hadn't accomplished anything) than they did to Sarah. She had just reached the highest pinnacle of her career, and Sarah had to read negative comments on her looks, body and clothing in the press.
Then, to find out, although she could lift more weight than almost any other woman on the planet, and was ranked higher than any other American weightlifter (male or female), she could not get a traditional weightlifting sponsorship due to her size. I decided 360 Stretch should create an advertisement campaign truly representative of this elite athlete. I hope it moves you as much as Sarah Robles has moved me."
Now , if like us working out in denim isn't your thing, but you're still looking for the same flexibility and style in your clothes check out our colourful plus size active wear range now. We have an incredible parrot print on our fitness legging that'll match the tropical carnival theme that Rio is famous for . We hope that watching the video of Sarah will also inspire you to use that gym membership you paid for , book some classes or simply go for a walk , whilst of course wearing one of Anna's active wear range items.