Anna Loves
Last week I attended the body positivity exhibition that the fabulous curve model agency, Bridge put together with the up and coming photographer Mariam Gomez. The photos were edgy and the subjects looked youthful and fresh.
Bridge Models and photographer Mariam Gomez team up for a body positive campaign, showcasing beauty in all its different shapes and sizes.
"We were excited to launch the 'Schema' collection last week with a private view exhibition.
This project has been six months in the making and the finished collection is now live at: http://www.mariamgomez.co.uk/schema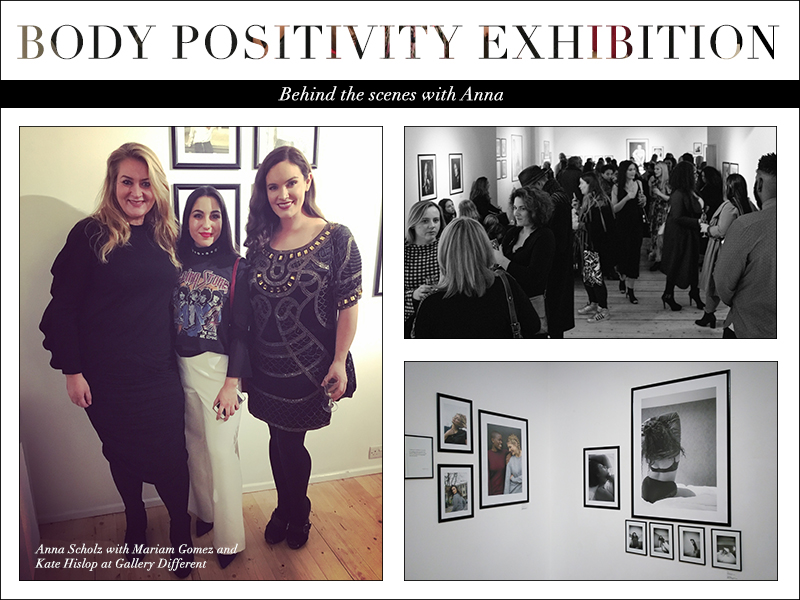 We felt this was a great platform for models, photography and fashion to come together without the focus being on size, but whilst still addressing the need for diversity.
Featuring a variety of female and male models of different sizes and ethnicities, this anthology speaks for itself in quality and originality. We chose to collaborate with a graduate photographer as we believe we need to invest in new talent and encourage those starting out to be more inclusive than the current industry template.
As with designers if we can educate and encourage them from a student level to be designing for larger and more varied sizes we open the playing field to greater diversity. The change starts here" Charlotte Griffiths and Beth Willis – Bridge Models 
"The Be Real Campaign's ambitious goal is to transform lives across the UK by celebrating diversity, putting health above appearance, and enabling everyone to enjoy a happy, healthy and positive attitude towards their body. Be Real is collaborating with Bridge Models and supporting Mariam Gomez's work because the 'Schema' exhibition perfectly illustrates the beauty in showcasing real diversity through the fashion industry." Liam Preston – Be Real Campaign
Link to collection online: http://www.mariamgomez.co.uk/schema
#SchemaLondon @bridgemodels @mariamgomez