Anna Loves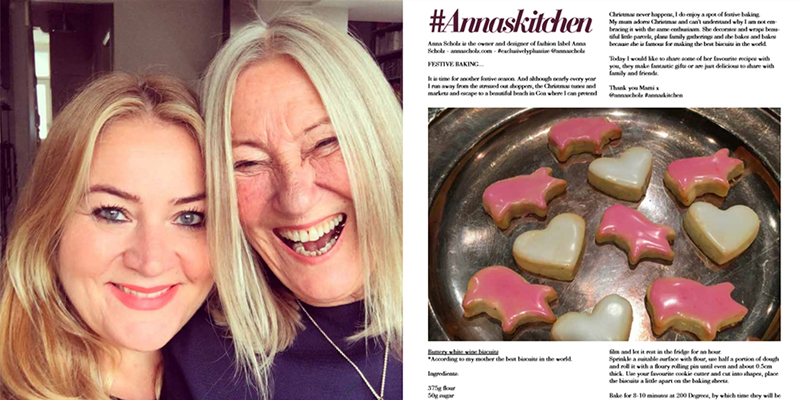 Festive baking – or the best biscuits in the world
It is time for another holiday season. 🙂
And although nearly every year I run away from the stressed out shoppers, the Christmas tunes and markets
and escape to a beautiful beach in Goa where I can pretend Christmas never happens, I do enjoy a spot of festive baking.
My mum adores Christmas and cant understand why I am not embracing it with the same enthusiasm.
She decorates and wraps beautiful little parcels, plans family gatherings and she bakes and bakes.
Because she is famous for making the best biscuits in the world.
Today I would like to share some of her favourite recipes with you, they make fantastic gifts or are just delicious to share with family and friends.
Thank you Mami x
#Annaskitchen is published in http://slinkmagazine.com/
PS. Have a wonderful holiday season, I am off to the beach 🙂
Buttery white wine biscuits
*According to my mother the best biscuits in the world
375g flour
50g sugar
1 pinch of vanilla sugar
1 pinch of salt
3 tablespoons of white wine
1 egg yolk
1 teaspoon of grated lemon zest
300 g butter ( soft at room temperature)
For the icing
300g icing sugar ( sieved)
Juice of 1 lemon
Mix all ingredients together apart from the flour. Add the flour bit by bit until all is mixed in and you have a solid piece of dough.
This dough is very buttery and you will need to wrap it in cling film and let it rest in the fridge for an hour.
Sprinkle a suitable surface with flour, use half a portion of dough and roll it with a floury rolling pin until even and about 0.5cm thick. Use your favourite cookie cutter and cut into shapes, place the biscuits a little apart on the baking sheets.
Bake for 8-10 minutes at 200 Degrees, by which time they will be lightly golden around the edges. Cool on a rack and continue with the rest of the dough.
Re-use the leftover dough and roll it out again until the dough is used up.
When they are fully cooled you can get on with the icing, mix the icing sugar with the lemon juice until you have a thick-ish paste and brush each biscuit with  it carefully and let it set.
And as I am not a very festive spirited kind of girl , I dyed half of my icing baby pink with pink food colouring and coloured my piggie biscuits pink.
( my mum thought that was a terrible idea, she only likes the white stars and hearts)
Cinnamon Stars
200g Marzipan
3 egg whites
300g icing sugar
100g sugar
4 tablespoons of cinnamon
200 g ground hazelnuts
200g ground almonds
For the glaze
1 egg white
180g icing sugar
1 tablespoon of lemon juice
Knead the marzipan with 1 egg white, add the icing sugar, sugar, cinnamon and other egg whites.
This is getting very sticky J , then add the ground hazelnuts and half of the ground almonds and knead together well.
Sprinkle your working surface with the remains of the ground almonds, flour your rolling pin and carefully spread the dough until it is about 1cm thick. Again it might stick, so you have to add a little flour to the top of your dough.
Cut out as many stars as you can closely together and move them on baking  papered trays.
Re-use the leftover dough and roll it out again until the dough is used up.
Then you have to make the glaze, combine the icing sugar with 1 egg white and lemon juice and stir well. Paste the glaze evenly onto the unbaked biscuits. Make sure to cover all the corners of the stars J
Bake in the middle of the oven at 175 degrees for 10-12 minutes until the glaze is slightly browned.
Remove the stars with the paper from the trays and let them cool down.
Nut Rounds
100g Butter
75g Sugar
100g Flour
100g ground Hazelnuts
( they are kind of hard to find, you might have to grind them yourself in a food processor or get a wholefood shop to do it for you)
1 egg yolk
1 bag of whole unshelled Hazelnuts
Whisk the butter and sugar until it looks creamy, then mix the flour and ground hazelnuts into the mixture.
Prepare a baking tray with a baking sheet so the cookies wont stick.
Form little balls of cookie dough ( I like mine about the size of a chestnut, they will spread once they are baked) press them on the baking sheet and flatten a little. Put one whole hazelnut in the centre.
Brush them with egg yolk and bake in the oven for 15-20 minutes on 180 degrees