Anna Loves
Each morning my day starts with me taking my dog Frida for a stroll in the park. Depending on the glorious British weather, my moods, how much work I have waiting for me, some days are much more pleasurable than others, but I feel that it is always good to get some fresh air before spending the day in my office.
My walks always take longer than I think as I am forever being stopped and asked what breed Frida is? She is an unusual looking dog being half Dalmatian, half Lhasa Apso – she looks like a mischievous spotty terrier. She is very photogenic and I always have my beloved camera on hand to get that perfect shot of her.
My local park fills me with new ideas as it is always bursting with blossoms, plants, shrubs, trees and leaves which I find so fascinating. However many unexpected influences have pushed me to design new prints, I remember that my favourite knitwear project when I was at College was based on photographs of ripped advertising posters on the walls of platforms on the London underground –  as Paul Smith said… ''you can find inspiration in everything! – and if you can't look again!''
Now back to my morning walks for the inspiration for one of the exclusive prints in my new collection. I took photographs of piles of fallen leaves in the park, uploaded the images to my computer and used the genius of Photoshop to create this beautiful new print for SS17.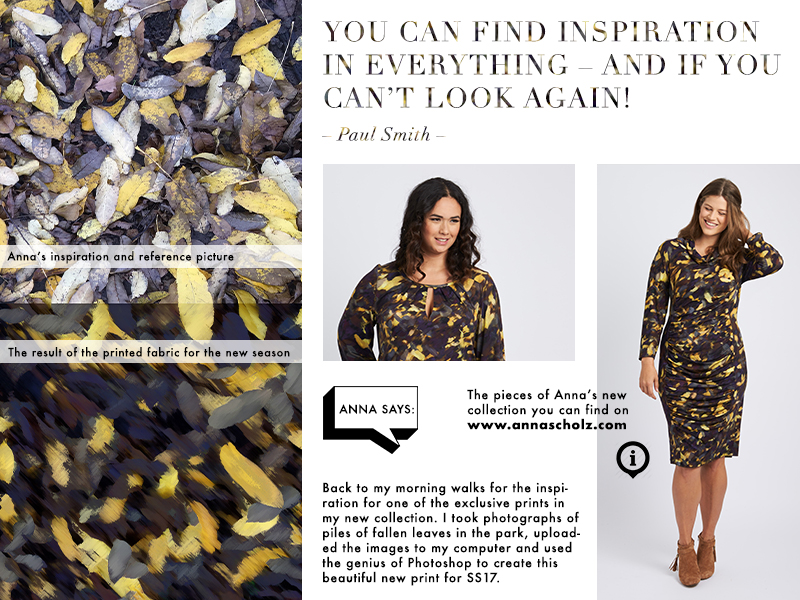 I love wearing bold and bright prints in the height of Summer, but at the moment I feel closer to Autumn and Spring colours and I think the new SS17 prints really reflect my current feeling.
Do you have a favourite print that you like wearing? Do you prefer strong, bold prints or do prefer something a little muted ?  I am very curious to find out what you like – Please let me know x