Anna Loves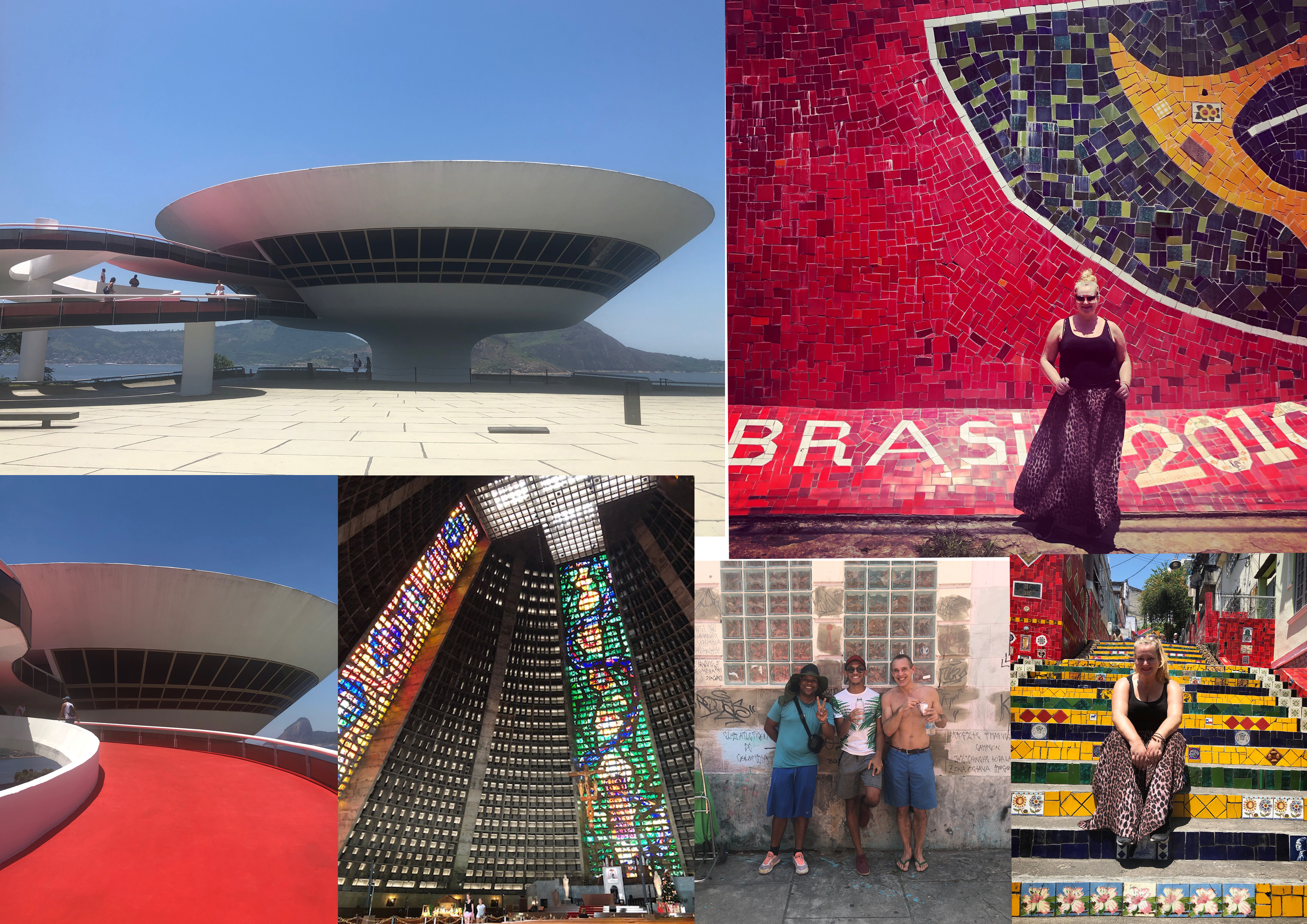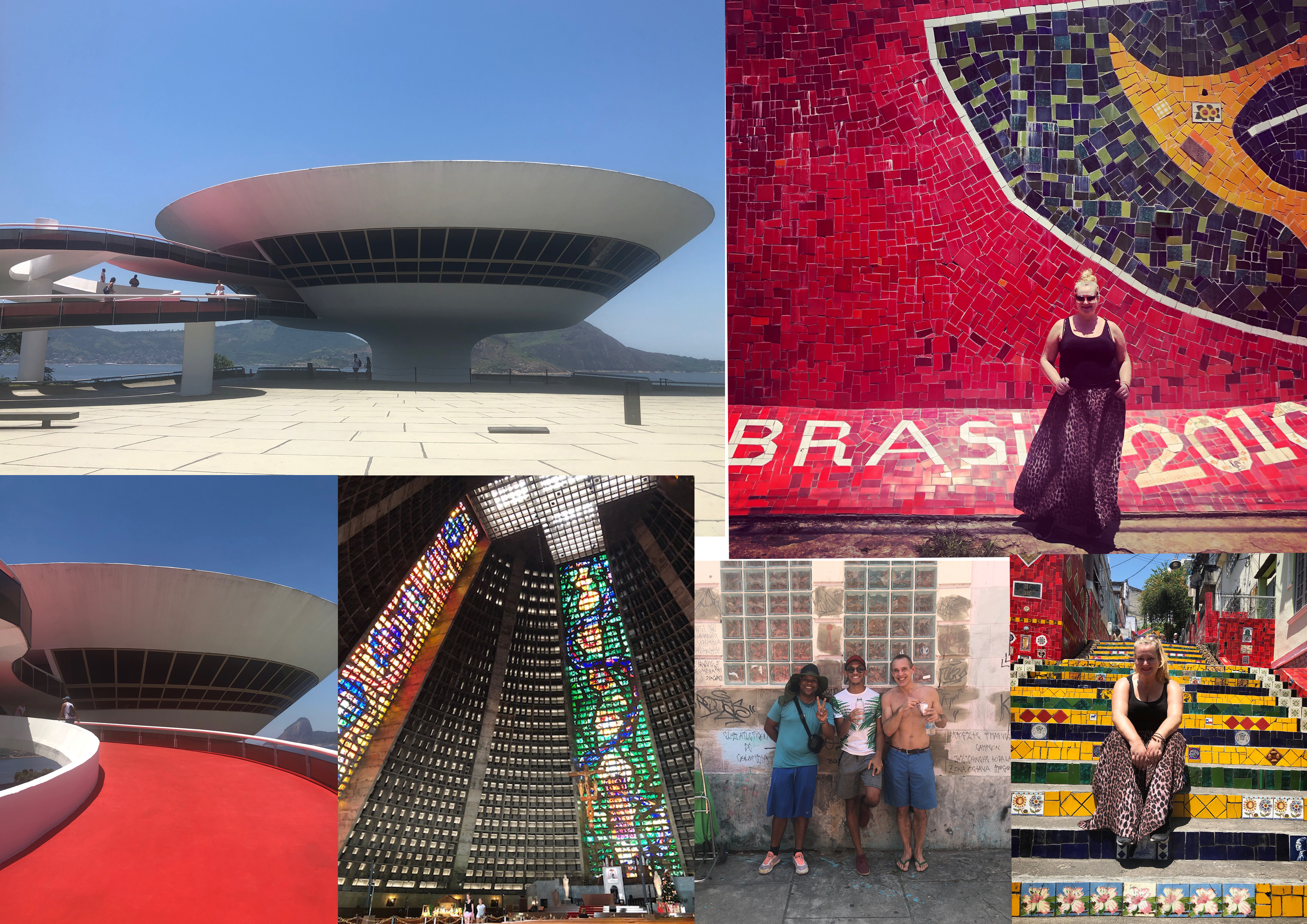 Brazil has been on my bucket list for about a decade.
The girl from Ipanema , Havaiana flip flops , caipirinhas  and the beauty of the people had an allure I couldn't withstand any longer.
When my favourite travel friend Richard and I finally agreed it was the right time to go ( December 2018), I felt overwhelmed on where to start. I don't think I ever realized how huge and diverse Brazil actually is, what looked to me like a few hours in the car, was a minimum 1 hour flight, Bahia alone is bigger than Spain and the Amazon a 5 hour flight away from Rio…..
After a lot of research and many travel tips we decided to go to Rio, then a beach paradise in Bahia called Trancoso and finally Salvador de Bahia.
I am sure I will be back and explore other areas like the Amazon or the beaches of the North like Recife and Fortaleza, but this was a great start.
RIO
Rio has many famous and beautiful attractions, like Christ the Redeemer and Sugar Loaf mountain, neither of which we actually went to see, although we had many great views of both around the city.
I prefer the slightly off the beaten track attractions, trying to escape the masses of tourists.
I recommend a visit to Parque Nacional da Tijuca where you have undisturbed views over Rio's landscape and Christ the Redeemer.
Rio has its own pulse, beyond the parties and many semi-naked attractions it features some of the most beautiful natural geography in the world.
The beaches are a great place to start.
Copacabana is rather crowded and very touristy, Ipanema  a little more upmarket with a big gay section and Leblon a little quieter and upmarket.
We decided to stay in Leblon in newly opened JANEIRO hotel
So new in fact it was still in its trial stages. Which sometimes can work against you as there are bound to be teething problems, but most of the time, people make an extra effort to be accommodating and listen to feedback.
We loved the Janeiro.  Super friendly service, fabulously stylish, perfect location and great food- which we didn't find too often in the rest of Rio
The hotel has a tiny rooftop pool which is a nice spot to chill for a few hours and have a dip after a hot sweaty excursion, but is also opposite the beach with a private umbrella and sunlounger service from the hotel.
Rio surprised me with her offering of amazing architecture, the Oscar Niemeyer museum in Niteroi   is spectacular, the modernist cathedral of Saint Sebastian  breathtaking, architecture around Lapa and Santa Teresa  is a fabulous mix of old and new, and you have to go to the famous tiled steps of Escadaria Selaron.
One of my highlights in Rio was the visit to the lush and very tropical Park Lage and the much photographed, but surprisingly quiet Café where we had an amazing lunch.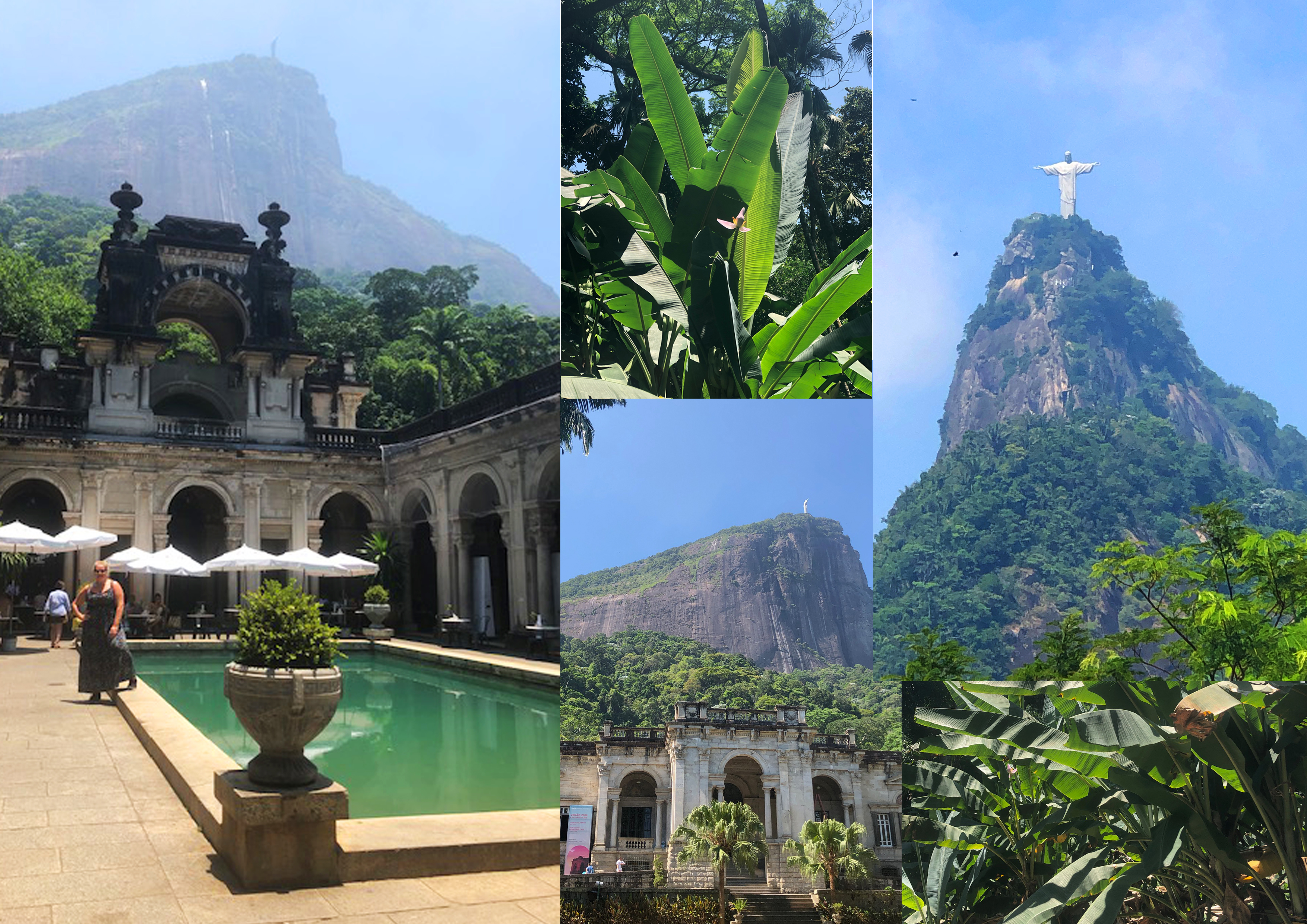 Trancoso- Bahia
Brazil has a staggering 5000 miles of coastline and it can be hard to pick which bit of beach you want to call your home for a few days.
Bahia, perhaps its most laidback state, is home to the 'Discovery Coast' where Trancoso sits on Unesco protected shores. Porto Seguro airport is about an hours drive away.
We stayed at the dreamy  beachfront hotel Pousada Bahia Bonita  a 10 min cab ride away from the centre of Trancoso.
I immediately fell in love with the hotel, the labyrinth of walkways and hidden away houses with beautiful rooms right on the most magnificent beach.
Only 2 people spoke English in the resort and Google translate came in very handy especially when we tried to decipher the menu … but hey we were here to relax.
The beach was full of daybeds, loungers and umbrellas, perfect for lounging the days away.
Trancoso itself is picture perfect small town with brightly coloured houses, restaurants and shops around the quadrado with its famous white church.
The hippies discovered Trancoso in the 1970's and brought roads and electricity, and later organic cafes, yoga and luxury boutiques.
Don't be fooled by the simplicity of this idyll, everything is extremely upmarket and swish attracting supermodels and famous actors alike.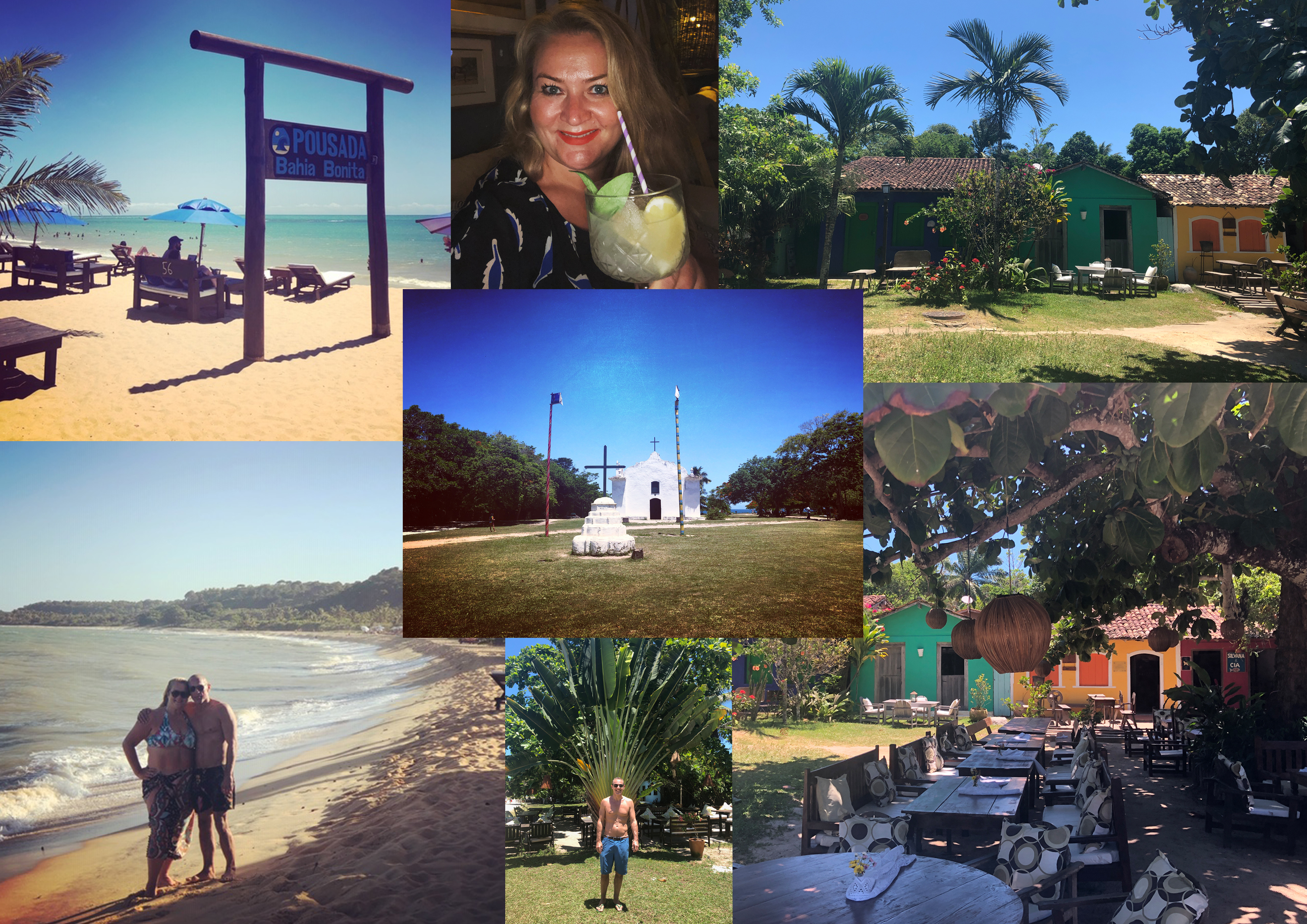 I have to admit that the Brazilian cuisine didn't take my fancy, it was very hard to find a simple grilled fish or anything not covered in heavy sauces and deep fried although I loved Acai berry bowls for breakfast….yum.
My favourite restaurant in Trancoso was Jacare do Brasil where the cocktails were enormous and the food fresh and delicious.
I could have simply done nothing but relax and meander, but we ended up renting a speedboat (including driver) for the day and sped down the coast to the famous Espelho beach ( also known as the mirror beach) with its famous rock formations and plush beach bars.  Amusingly we had to dive into the crystal clear water from the boat and swim onto the beach and therefore didn't have any money to even buy a drink…hahahaha
Mental note to buy a waterproof wallet for the next boat trip.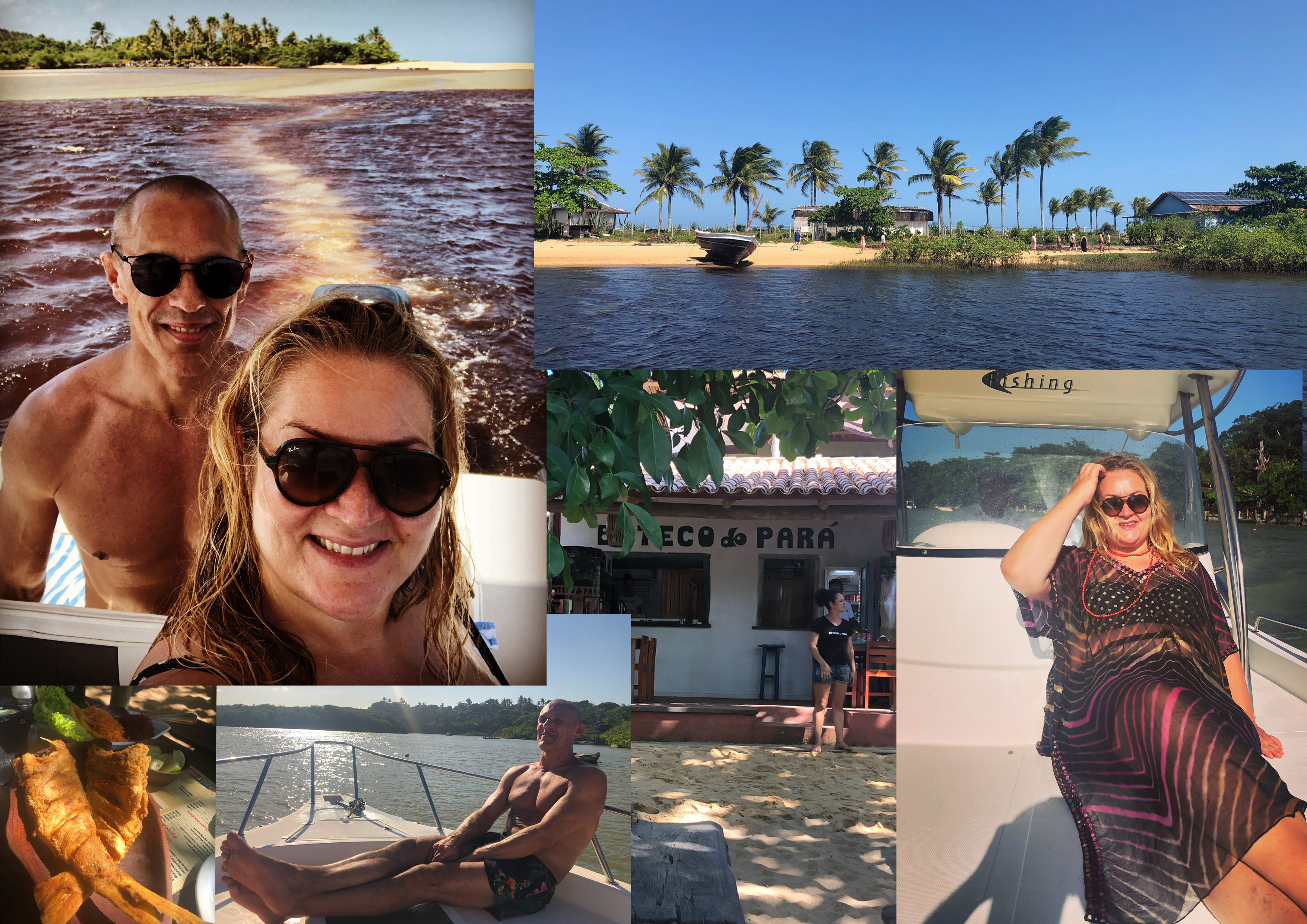 We then went on to rustic and enchanting  Caraiva  where we had one of the best lunches of our entire trip in a little beach shack called Boteco do Para  right on the lush river leading into the Mangroves of Bahia.
I would have happily spent a few days in car- free Caraiva, but our boat was waiting to take us on a bumpy ride back to Trancoso. Such fun.
We ended our stay at Pousada Bahia Bonita with a delightful Christmas eve beach buffet dinner provided by our beautiful hotel.
Salvador de Bahia
Was the first colonial capital in Brazil founded in 1549 and has been listed as a Unesco world heritage site since 1985.
I didn't enjoy arriving in Salvador after the tranquil days in Trancoso, I wasn't quite ready to leave the beach and be in a city again.
When we arrived at the Zank by Toque hotel it was completely deserted. The beautiful period villa reception was just that – beautiful, but the rest of the hotel was a faded modern tower block with an odd mix of statement furniture thrown in.
I was tired and hot and settled on the roof terrace with pool to relax for the afternoon where we had a surprisingly great lunch and had the entire place to ourselves.
I began to relax until I heard gun shots from the neighbouring favela and felt more uneasy. Salvador has quite a bit of a reputation…
We decided to book a guide for the next day to explore the historic centre of Salvador in order to ease ourselves into the city.
We were lucky to be greeted by the amazingly charismatic Sayuriko Oshima, 
who was full of knowledge and made me fall in love with historic Salvador, the pastel coloured houses, cobbled streets and breath-taking golden churches.
You must not miss the Sao Francisco Church and Convent with its amazing courtyard of faded blue and white Portuguese tiling and the magnificent golden interior of the church itself.
Sayuriko took us to a Christmas mass at the Church of our Lady of the Rosary of the Black People which was built by  former slaves.
I have to admit that I am not religious, but the church was so overwhelmingly spiritual, especially with the loud singing and burning incense that Richard and I both started to cry.
Overwhelming and beautiful.
Everywhere you turn in Pelourinho you are greeted by capoeira dancers – we witnessed an amazing capoeira wedding and street drummers filling with streets with noise and life and laughter.
This town has spirit.
I am not sure if the heavy armed police presence made me feel reassured or safe or worried, but the fact was that I felt completely safe.
My favourite restaurant was Pysco Restaurante
I recommend the octopus carpaccio and fantastic passion fruit caipirinhas on the terrace of this beautiful historic building.
We booked another boat trip this time on a sail boat to the island of Ilha dos Frades  
Nice if you want another idyllic beach day in Salvador. There is not much to do on the island, and it was so hot that I couldn't really sit on the beach in the middle of the day when we finally arrived, but it was beautiful nevertheless.
I don't think it was worth hiring our own boat, especially as it broke down and we had to be towed back to Salvador, which made our trip 3 hours longer than expected. The party schooners travelling between Salvador and the island looked like quite a lot of fun if you don't get seasick.
We did end up liking the Zank Hotel, as it was very peaceful and a bit away from all the hassle and bustle.
But we spent our last night in the historic centre in Bahia Hotel Café which was very pretty and cute.
Great place if you want to stay in the middle of it all and don't mind a bit of street noise, as Salvador hardly ever quietens down.
We spent our last night in Salvador seeing the Bale Folclorico da Bahia folk dance show and really enjoyed it, especially the capoeira part of the dances.
The one thing which puzzled and upset me in Salvador is that there wasn't a single monument to Slavery. The Portuguese imported 40% of the total number of slaves to the Americas and brought an estimated 4 million slaves to Brazil.
The famous auction house and whipping posts don't tell the story in the historic centre of Salvador but you can feel the strong African influence everywhere.
Michael Jackson filmed one of his most famous videos in Pelourinho and there is still a huge banner of him in the most famous square.
If you want to get a feel for Salvador watch his 'They don't care about us' video
We spent one more night in Rio before going back to London on an overnight flight.
I had the pleasure to spend my last day with the beautiful plus size model Rafaela, who we did our last photoshoot with.  Rafa and her fiancé Marcel took me for a tropical lunch in a private lagoon and a last dip at the amazing Barra beach, which is actually the longest beach in Rio.
One thing is certain: Brazil: I will be back
PS. This was not a fashion trip, I limited myself to very few practical items and small luggage …
Richard just took hand luggage !!
Travel tips :
Uber cabs are available everywhere around Brazil and are a cheap and great way to get around. I never felt unsafe using one.
Only carry the most necessary items with you in Brazil.
Muggings and crime rates are high in Brazil – especially Salvador- so carry as little as possible. I had a little bum bag with my hotel key, one credit card, £20 worth of cash and my phone- which I didn't take out of the bag in areas that I felt a bit wary of
Book flights on Christmas day or New Years Eve as they are always cheaper.