Fashion
Tom Ford did an interesting "plastic surgery" editorial for the December/ January issue of French Vogue, which features the beautiful Crystal Renn as the recipient of a faux facelift!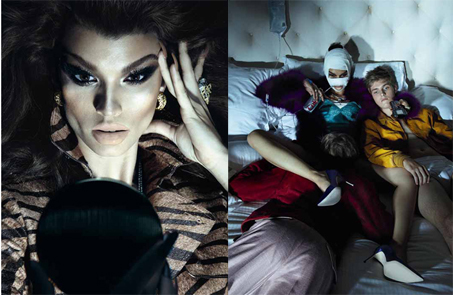 Crystal told Fashonista, "What I enjoy most about my job is the opportunity to express myself, often doing this by becoming a sort of character on the shoots that I do, and every time I work with Carine [Roitfeld, French Vogue editor-in-chief] I feel the character approach is emphasized. When they were taking the cast of my face, fitting me for prosthetic cheeks and lips, I remember thinking this is why I do my job, for moments like this. After the shoot I took that very mask and asked Tom to sign it, it sits in my living room as we speak."
It is definitely a transformation. She looks more Janice Dickinson than Janice Dickinson! What do you think of the spread?