Fashion
The last two days of Emma's Anna Scholz Week on her blog, Oh, The Places You'll Go built to a fine curvaceous crescendo.
We've loved seeing the different ways Emma has styled Anna's clothes this past week. It's always interesting and informative to read her thoughts about what makes the garments work for her figure and what to wear them with.
For her finale, she featured Anna's double silk pleat shift dress in the eye-popping zoomorphic parrot print from the White Label collection. And she sported the black lace cropped jacket and the check print jersey plait strap dress, both from the Black Label collection.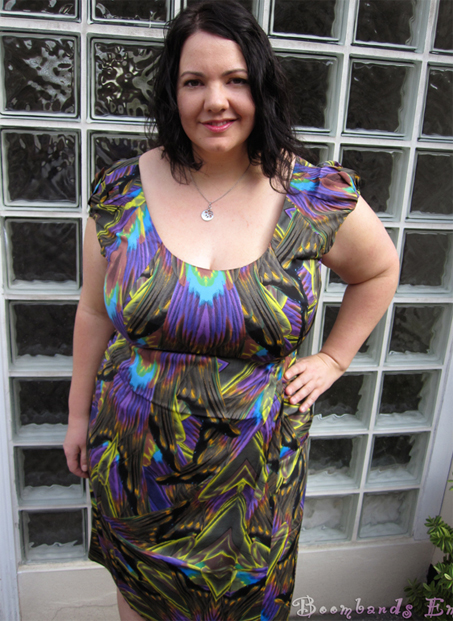 Emma describes the parrot print silk pleat shift dress as having a kind of glow in the sunshine. "It radiates a vibrancy and energy of colour that literally made me keep looking down at my body and going, WOW. … This is a shape, that feels MADE FOR MY BODY. It caters to my breast, pulls in for a high waist and then flows from the hip. If you are new to Anna Scholz and want to jump straight in the deep end for style and class – this is the way to go!"
"You can wear this lace cropped jacket done up or undone," Emma continues. "You could wear it over dresses or over a plain little cami – like I have. … The tailoring on this jacket is completely spot on and the detail in the lace is really delightful. … If you want coverage, want to feel feminine and need a piece that can transition between both class and sexiness…THIS is the item."
Emma especially loved Anna's check print
jersey plait strap dress
. She raves,
"This is the one. This is THE dress. … You put this baby on and feel perfectly summery. This dress isn't heavy and it isn't rigid with structure… BUT this dress holds shape and gives you a sexy curve thanks to its cut and drape. …The centre drape of material that falls between the breasts creates a really comfortable weight that GIVES this dress structure. Material ALSO falls from underneath the bust area, such that you are given a really gorgeous silhouette."