Lifestyle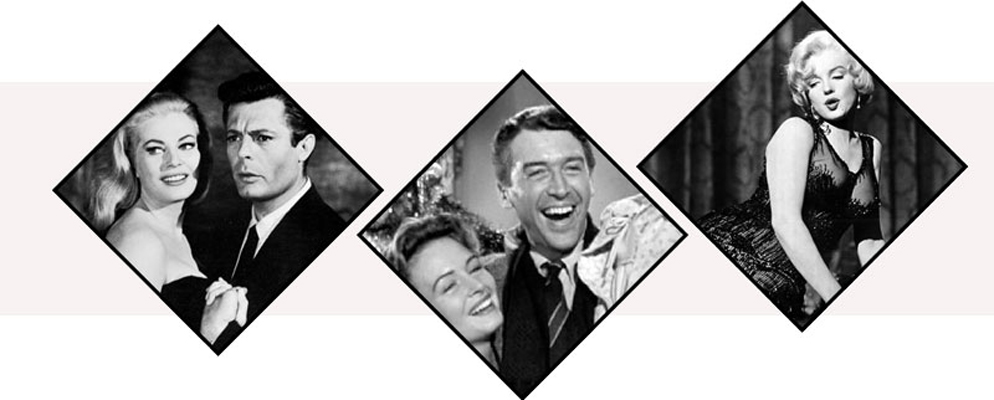 With the special effects in films these days seemingly getting more realistic and breath-taking by the movie, it's not surprising that the older films can sometimes be unfairly forgotten. So in conjunction with our black-and-white clothing release this week, here's a list of some of our favourite black-and-white movies. Let us know what you think, by tweeting @AnnaScholz and telling us which choices you do or don't agree with!
La Dolce Vita (1960)
This film follows a week in the life of Marcello, a journalist, who is looking for love and happiness in Rome after becoming fed up with covering the self-indulgent film stars and aristocracy in his work. It is divided into sections that cover each day and has an amazing selection of extravagant costumes and beautiful locations. The film is considered one of the greatest of all time and has been cited as an inspiration. Various different scenes have featured in a number of other films, television programmes and even songs.
It's A Wonderful Life (1946)
Largely considered a perfect Christmas time film, It's a Wonderful Life is a beautifully uplifting story about a man named George Bailey, who after initially wishing he had never been born is shown the inspiring impact he has had on the lives of a number of people with the help of his guardian angel, Clarence. It is often considered one of the greatest films ever made and will forever remain a classic.
Some Like It Hot (1959)
You'll all know at least one of the stars in this film – the one and only Marilyn Monroe. It's a great film, beyond Ms Monroe playing a blonde bombshell singer and ukulele player, it features two men who have decided dressing in drag is the best way to escape the mafia. There are numerous laughs to be had, and it's great that it can still invoke a chuckle or 5 more than half a century later.
Casablanca (1942)
Another iconic film that won a number of Oscars, and a true rom-com Casablanca is the story of an age old romantic problem – the love triangle. The quote "Here's lookin' at you kid" came from this film but the whole picture is often remembered for its beautiful and clever dialogue throughout and it also has a well-known theme song.
The Wizard Of Oz (1939)
Possibly a bit of a cheat entry, but we couldn't miss out one of the most iconic films of our childhoods! That amazing moment when Dorothy arrives in Oz, and the previously B&W film is suddenly in bright and beautiful colour was such an unexpected change, not to mention all the charming characters – and the metaphors they represent – that you meet along the way. It's a film that always ranks highly in both the public and critic's favourite film polls.
The Devil Is A Woman (1935)
While one of the lesser-known films on our list, The Devil is a Woman still makes for a fascinating and beautiful visual journey about heartbreak and fighting for the woman you love even though she might not love you. It starred the stunning Marlene Dietrich and on its release was banned by the Spanish government because of the way it represented Spanish officials! It's a very decadent film and while its plotline and acting may arguably not be at the same level as some of the other films in this list, its beauty definitely is.