Anna Loves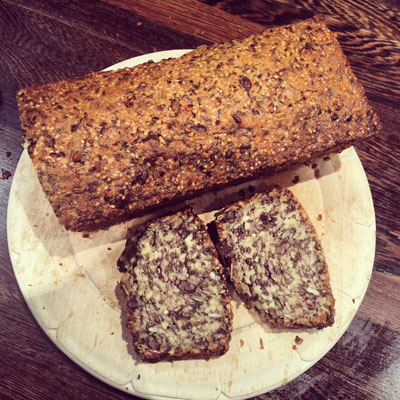 I would like to introduce you to this amazing protein bomb of a bread!  Protein is an essential nutrient, responsible for multiple functions in your body, including building tissue, cells and muscle. Everyone needs protein in their diet, but if you do endurance sports or weight training you'll need to increase your protein intake. It's important to factor it into your training routine at specific times to make the best of its muscle-boosting benefits. I always include protein in my diet an hour after my morning work outs. I add sliced avocado and a poached egg on top of this bread for a breakfast that will help my body recover and grow.
Friends of mine in Germany made this and when they told me the ingredients, and how to make it I was astonished at how easy it was to create. I'm not sure where the original recipe is from but I had to share for you to try at home :
Ingredients –
200 gr linseeds,
200 gr sunflower seeds
200 gr sesame seeds
200 gr chopped almonds
8-10 eggs
250 ml good olive oil
Salt
Pepper
Creative ingredients… you can season with anything you like, like fresh or dried herbs, spices, chilli, garlic, added walnuts etc
Mix 200 grams of each of these : linseeds, sunflower seeds, sesame seeds and chopped almonds ( so a total of 800g of seeds – I actually took less sesame and sunflower and added 100 g of pumpkin seeds as I really like them) , 8-10 eggs ( I used 9) 250 ml of olive oil and season to taste. I added salt, pepper and some herbs from the garden. Mix it all together put it in a bread loaf tin and bake for about an hour at 180 degrees.
Don't forget to butter the tin as it is quite tricky to remove.
Completely delicious , gluten free and very filling 🙂