Anna Loves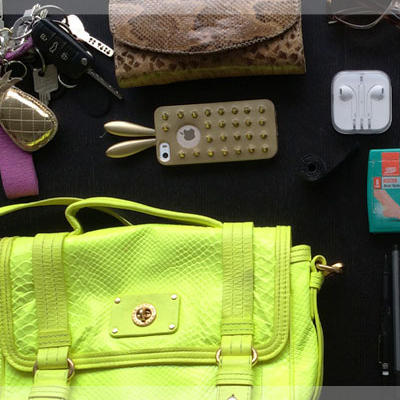 We all have one, it contains much more than it should, including some long forgotten treasures, a bunch of keys with too many keyrings on it, and a scrunched up receipt or two: our beloved bags.
To celebrate the launch of our new Suzani Embroidered Cotton Shopper bags, and inspired by our previous blog post about the contents of women's handbags, we've decided to have a hunt through ours and photograph our findings.
Anna's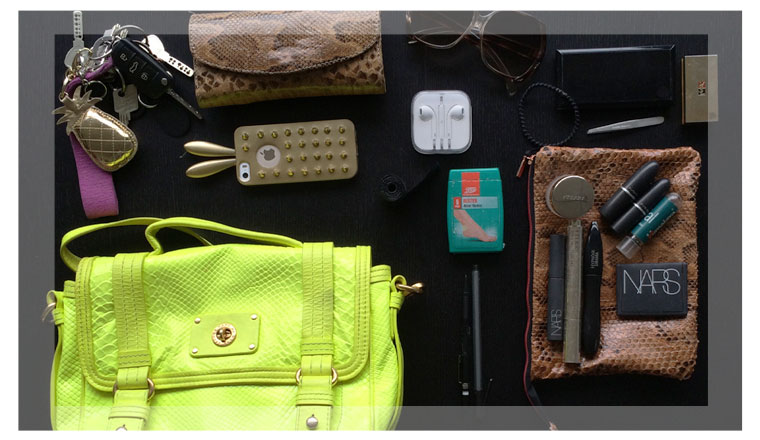 Anna's bag is unsurprisingly a mix of fashionable and useful. A long term fan of snakeskin, Anna's got a matching purse and one of her own makeup bags – keep your eyes peeled for these appearing on the website soon! And with her emergency supply of plasters and makeup to top up her look, Anna is always ready to take on whatever the day throws at her. We all swoon over her statement Marc by Marc Jacobs neon yellow bag too. As a true Fashionista Anna also carries around her vintage YSL sunglasses.
Cliff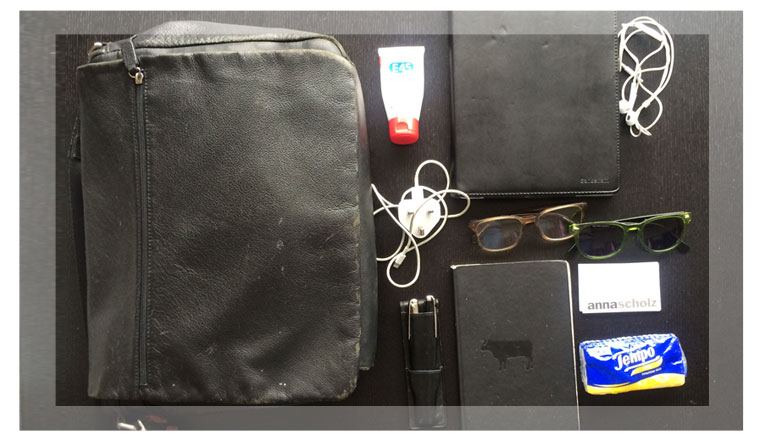 Cliff, our managing director, is definitely well stocked with electronics and sunglasses! We reckon that notebook holds far too many secrets about the Anna Scholz company, but we'll let him off as we quite like that cow silhouette on the front.
Liz
Liz takes after Anna with her love of bright, eye-catching bags, which isn't really surprising as she's our Digital/Fashion Designer. Her bag contains just the basics, but we love how it's all in similar shades, and her new Anna Scholz leather notebook is a great place to write down all her ideas and inspiration for the new collection.
Michaela
We love this statement bag, belonging to Michaela, our Web Shop Manager & Blogger Extraordinaire. She's another one who's guilty of carrying around her whole life in her bag, but that means she is always prepared for when she runs off to her blogging events or photo shoots after work, helping to spread the Anna Scholz name. Always on the go Michaela's favourite item in her bag has to be her chargeable phone case and headphones to listen to her favourite songs.
Steffi
Guess who likes floral patterns? Steffi, our Pattern Cutter – she's even got a matching mug in our kitchen. It makes for a well organised bag though; if it's sunny she's got her sunglasses and a fan, if it's raining her umbrella will come in handy, and her little black purses probably make finding that half-used pack of chewing gum at the bottom of her bag much more easier.
Emma
Our Graphic Design Assistant, Emma, has vowed to never buy a big handbag again, as she has a tendency to then overfill it with too many odd things – such as that padlock?! Another makeup hoarder, but she'll hopefully learn her lesson as Steffi's had to fix her bag recently…
Do any of our contents match those in  your bag ? Do you carry any unusual items in case of emergency that you are happy to share with us ? Why not send us a photo of what's in your bag.
#marypoppinsbag #whatsinyourbag #exclusivelyplussize