Beauty
They say life isn't always black or white. Most of life resides in grey areas of varying degrees of murk or clarity. So why is it that in fashion we feel we have to pick a favourite between the two?       
Some things in fashion are, shall we say, a bit…confusing : "fun fur," dudes in Uggs, high-waisted jeans. But when it comes to wearing black and white, it seems that the rules are pretty, um, black and white. People have very set opinions about when wearing one or the other is appropriate or a deadly misfire. For example, some say you shouldn't wear black to a wedding, though I think that this rule has relaxed. In the U.S. they say absolutely that white pumps should never be worn after Labour Day (though, personally, I feel the only women wearing white shoes should be nurses or strippers).       
I definitely wear more black myself. Everyone agrees that black is classic, a wardrobe necessity. Drop the nickname "LBD" in English conversation and every woman knows you mean the Little Black Dress—the go-to staple piece, the quick fix of glamour and sophistication. Black is an instant way to evoke drama, elegance, mystery or formality with an outfit.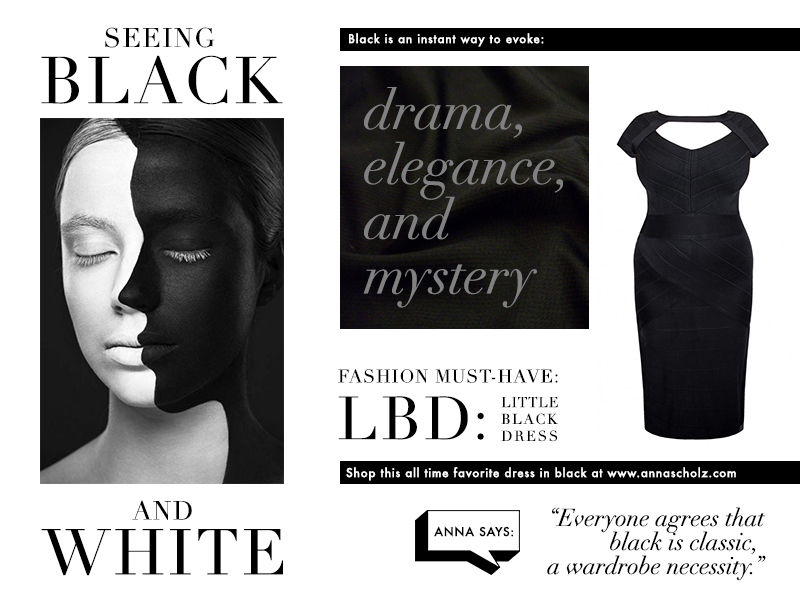 Symbolically, black gets a bad rap. It's always associated with evil, bad luck, depression and death. Why is it that black has such negative connotations when everyone loves wearing it? Perhaps it's because some part of us secretly likes being the black sheep, the dark horse, the edgy black swan and so on. Even though the "bad guys" often wear black, I have to admit that I always loved the malevolent black cowls and cloaks worn by evil queens and sorceresses in fairy tales. The baddies in Disney movies always look so chic and pulled-together, their tiers of billowing black seem way more sophisticated and stylish than what ever meringue the heroine is wearing (villainesses always take risks with eye make-up too—I like that!).
Though black clothing is often associated with death and mourning in Western culture, it has come to mean so much more. Black can represent elegance, wealth, sophistication or mystery. It's also the "cool" colour in the fashion industry, representing youth, modernity, hipness, the underground. Who doesn't love Audrey Hepburn's hepcat black sheath dresses and gloves in Breakfast at Tiffany's?
Of course, all this said, I have lots of room in my heart for white too. White makes a fine counterpoint to black and also works well in combination with brights. Even though it's a neutral colour (or lack thereof), there is a lot of depth to white and numerous variations: there's bright, optic white and crisp, nautical white, there are creams and eggshells…The Eskimos have 17 different words for white in reference to snow conditions, and the average paint store has just as many names for white too.
But whatever the shade of white is, it's sure to evoke calmness, serenity, freshness and cleanliness. We all know that white represents purity and virginity in Western culture, hence, its use in First Communion dresses and bridal gowns (though let's be honest: most of us belong in at least an off-white wedding dress). White tones are also futuristic and clean, which is why we take comfort in the surgical whites worn by doctors and nurses.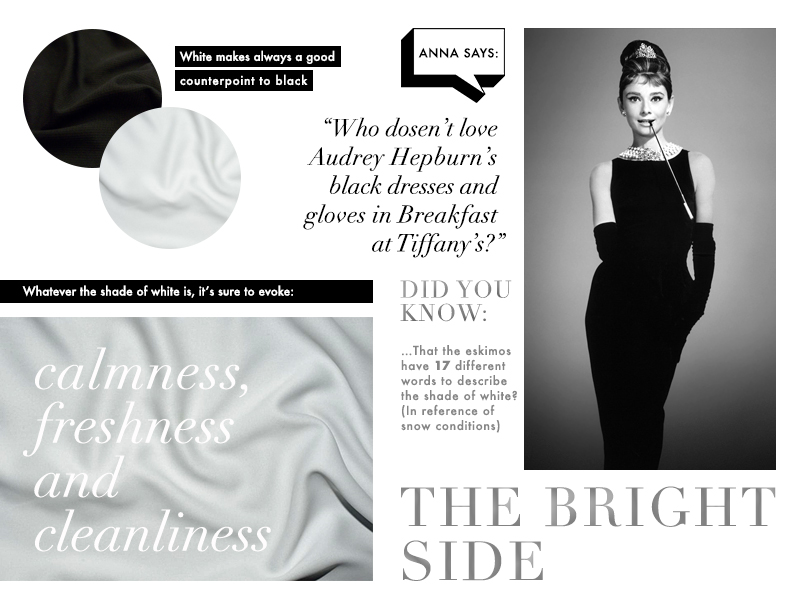 Apparently, wearing white is the best way to stand out from the crowd and one of the best colours for single people to wear when they are looking to meet someone. Wearing white also allegedly helps people to see you as trustworthy, so it's great for lawyers, lobbyists and politicians. It suggests a spotless character.
White is big news in fashion this season, with numerous looks on the catwalks from a variety of designers. I'm pleased that white tailoring has made a comeback. I've always loved the cool androgyny of  Marlene Dietrich's white suits and have a soft spot for John Travolta's tight white number in Saturday Night Fever. White tailoring is cool, slimming and softly structured.
White tones work wonders in lighter, gossamer fabrics as well. Think the airy ethereality of Mia Farrow's Daisy Buchanan character in The Great Gatsby or Stevie Nicks' cool white witch look, with all her shredded ivory layers billowing in a wind machine. Floaty layers of transparent white exude the grace of a dancer and look great over bright underpieces.
However, when it comes right down to it, I can't seem to choose between black or white. I mean, my life certainly isn't black or white. My beloved dog is white with black spots (when she isn't covered in mud from the park). Maybe my doggie, zebras, penguins and ermines have it right with their black and white coats. Black and white always look good together, reminding me of yin and yang, piano keys, regal chess pieces…
The key when wearing the two, however, is to avoid looking like a waiter. A crisp cotton shirt paired with tailored black trousers is a sure-fire way to invite someone to ask you for another gin and tonic at a party. Try adding a dash of colour such as a fuchsia cardigan or electric blue heels.
The more I think about it, the fact that my house contains so much grey is a sign that I truly live between black and white. Since life is rarely black or white, grey is where life's beautiful complexities reside. Grey is meeting the man of your dreams but finding he lives in another country. Grey is chocolate being insanely delicious but also fattening. Grey is great sex after a huge argument.
I guess my attitude toward fashion is a little like my theory about life. Sometimes you're given pure black or white. Most times, however, you're given a grey palette to work with, and the fun is adding your own splashes of technicolour.